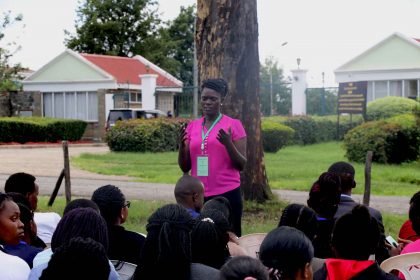 My name is Odal Merceline Akoth , I'm born again and Christ Jesus is Lord overall in my life.I take this great opportune moment to thank God for the great privilege he granted to me to serve as STEM Staff among the students in North Rift Region, Kitale C.Us; Moi University Eldoret West Campus Christian Union, The Kitale National Polytechnic Christian Union, KMTC Kitale Christian Union, KMTC Kapenguria Christian Union, Nzoia College of Nursing Christian Union, Equip Africa College of Health Sciences Christian Union and Excel Institute Christian Union.
Making the decision on joining STEM was worthwhile because of the person I'm becoming daily through FOCUS. One of the things I looked forward to when joining STEM was the interaction with new people and environment. Through these interactions, I desired that God would lead me through the journey of impacting the lives of students I would be assigned to. I, therefore, came in with longing to serve God to the fullest in order to accomplish what was meant for me during my season in STEM.
God has been faithful all through the journey of reaching out to students with the gospel of our Lord Jesus Christ. Some of the memorable moments in STEM are those that I evangelized to students. Seeing these young people giving their lives to Christ was everything to me. Whenever I hosted students over meals to create a conducive environment for fellowship and remembering the conversations that ensued, leaves me speechless.
I also found a home away from home in the strong network of Associates in Kitale. I always felt part and parcel of the Kitale inhabitant.
I have witnessed God's provision in my life and ministry at large. For example, He provided for me a Laptop and a phone in a way that I never expected or would have imagined. Having raised the ministry funds through people is purely through God's power.
Through STEM journey I've learnt some values and convictions. For instance, through my decision-making process to join STEM, I came to understand that partial or delayed Obedience to God's assignment is the same as disobedience to God. When I look back at God's presence throughout the journey, I am certain that God is always ready to walk with us only when we allow Him by dying to ourselves daily and surrendering all to Him.
I had many occasions that led to testing and the strengthening of my Integrity in life. Being the light and salt of the world, I knew Christianity is a lifestyle and holiness which is still relevant in the evil world since we are called to it.
I have had opportunities to gained new skills while developing others. Interpersonal skills, through peaceful coexistence with Neighbours, Colleagues, and students at the large top in my list. I have learnt the art of Meditation and reflection on God's word. Disciplines such as Journaling and giving have been inculcated in my life.
May God enable students to bear good and long last fruits that is germinating in their lives because they are keeping the future church. To my partners, may their cup never run out, and may God continue burdening their heart to support FOCUS ministry in every way He enabled them.May God continue supplying to FOCUS and may the mission, Vision, and Core Values be upheld for the glory of God.
TO GOD BE THE GLORY!.