Every time I have studied the book of Nehemiah, I have prayed that God would raise a Nehemiah generation in our time. A generation that has not only the burden to see the transformation in the society, but also one that is ready to transform the concerns into tangible actions. For this to be achieved, one must have counted the cost and committed to doing the right thing even if it means that they will be at it alone.
Genuinely concerned
When Nehemiah received news about the condition of the walls of Jerusalem, he was filled with grief and mourned for many days (Nehemiah 1:4). Even though the book of Nehemiah does not explicitly give information of what other people or leaders back in Jerusalem were doing concerning the ruinous walls, there is an indication that they were not concerned as much (Nehemiah 3: 10-16). For this, they needed a Nehemiah who was both concerned and committed to seeing the restoration of Jerusalem; one who could clearly and convincingly communicate the need and rally people to action.  This is what every person need for societal transformation. In addition to this, one ought to pay attention to the following principles:


Awareness and Salience of the issue – someone needs to be aware of the issue at hand and find out whether it matters to them and why?
Intrinsic motivation – One needs to find out whether they feel the moral responsibility to address the issue?
Efficacy – Do you think your action will have an impact on the system?
Capacity for collective action – Will other citizens/people join me? Is there an organization that has the capacity to launch actions on this issue that you can collaborate?
Cost of Inaction – What is the cost benefit of my participation? Am I afraid to act? What is the cost of not taking an action?[1]
The problem is inaction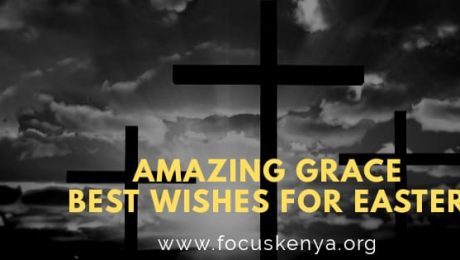 It is Good Friday! Humanly speaking, those are four off-days for a regular employee and if that happens to be a teacher/lecturer it's time to give the students some space. Here in Kenya, a good number of people take these days to sleep, visit each other, and do charity work, catch-up with rest or entertainment. I have a list on a sticky note of a to-go list for this long weekend. However, together with millions of others, we are either creating Easter memes or viewing them as they land on social media.
Setting out to do reflections on the death of the Lord, two interesting observations struck me:
An incredibly rich account from scriptures of the death of Christ. The records in the gospels suffice as historical, biological and spiritual go-to books. The details there are indisputable and resonate well with archaeological reports.
The familiarity with the story of a man who died and rose again for men to be saved. The unfortunate part with this is that the most popular parts of this story are those tailored to sound pleasant and appealing, seeker sensitive versions.
(more…)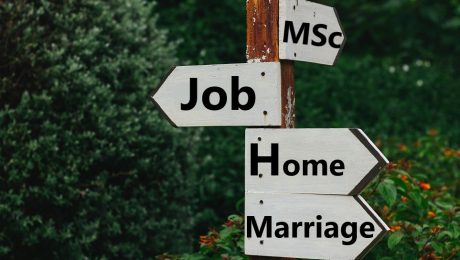 By Jacob Mugendi
At some point in campus/college, especially during your final months or semesters, you will need to start planning for life after school. It is a joy to finish and look forward to graduation, but there are also many moving parts involved that can rob you the joy of completing your studies. As you anticipate a life without assignments, CATs and Exams set by the devil himself, you also realize that it will be a life without HELB and possibly the close social gatherings you have enjoyed. By the way, HELB will still be there, but this time round like Santa Claus turned terrorist, asking you to repay your loan. Blessed is the one without HELB, for they will not be haunted! Sorry, I digressed.
What's next after campus? I faced this question almost six years ago, and with so many uncertainties, I had to decide what to do next and how to shape my life at least in the short term. What makes this a significant decision in life is that a lot of things change, and your life will be altered significantly from how you have lived in the last 20 years. Some of the major changes to expect include:
The increased cost of living, in terms of housing, food, travel, etc.
Decreased support from the people you depended on.
Increased expectations from people.
Finding a job in a jobless economy.
Transition to a different town/location, new community, and friends, or a new Church.
Another 300 challenges which I have no space to mention
One of these challenges is finding a job, and I would want to talk about it in the hope that I will help someone make the right decision. While in school, we work hard in the hope that we will land on a good job and possibly occupy the corner office. Even those who do not venture into employment hope to be successful as entrepreneurs. How can we make this a reality?
The reality of the job environment today
Once upon a time, there was something called a job. You had the same one for your entire life, and then you retired and got something called a pension.
Things have changed
Today, your career is probably going to take a lot of twists and turns. You'll work, change jobs, tarmac, get a side hustle and a main hustle, become an employer, an employee, consultant… etc. With the exception of a few people whose career path will look like the straight path shown below, most of them will have a twisted, convoluted and mixed up career path as shown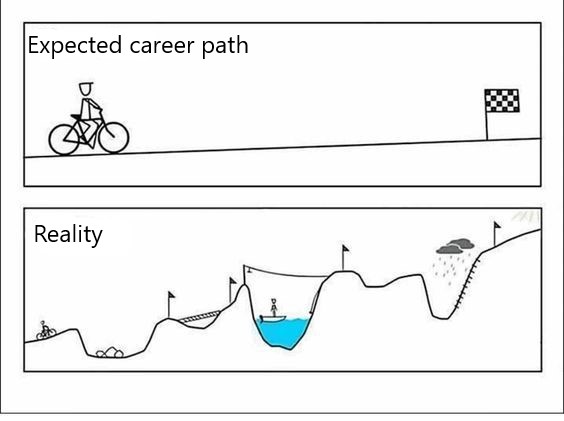 With this in mind, how can one ensure that their career kicks off well? Jobs need experience, and experience needs jobs. This cyclic loop can keep you jobless forever. Some people are also not sure which job they want to do, and others are keen on changing their careers altogether. The other problem comes when you send hundreds of CVs and receive neither response nor regret. Other times you attend so many interviews that you start doubting your purpose in life because some do not even bother to send a regret. With such challenges, here are three considerations that will help you get relevant experience to land on the job of your choice in the long run.
Getting experience
Internships
Internships are loved and hated at the same time, majorly because you can easily get yourself one, and also because most of them do not pay. However, internships are one of the best ways to gain some experience in a specific field.
Internships give real time experience and exposure and work best if you are targeting to intern in small organizations as opposed to big corporates. This is because, in small firms, you are likely to be given more duties and responsibilities, as opposed to big corporates. In our start-up, an intern will get more experience and exposure in three months as a system administrator than they can get if they worked in the big Kenyan companies for one year. This is because we give you as much work as we give a senior system administrator, and you will have the guidance of the senior admin seated next to you all the time.
For networks, you are likely to get an internship through referral, because many times these opportunities may not be advertised. If you know someone in an organization or business that is doing what you want to do, that will be an ideal place for you. Consider cold applications to any firm you know, and also look out for advertisements.
(more…)