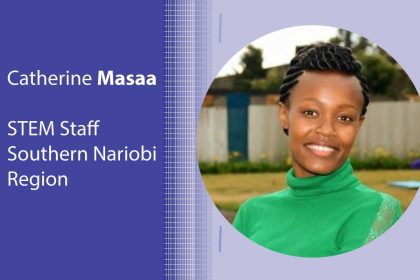 Catherine Masaa is my name. I am a former student of Kaimosi Friends University College (KAFUCO) (A Constituent College of Masinde Muliro University of Science and Technology) where I pursued a Bachelor of Commerce, Accounting option. Since 2012, the year I got born again, the journey of salvation has been characterized by growth in my relationship with Christ. I have grown in the word and prayer, evangelism, and discipleship.
I joined the Christian Union while on the campus where I grew significantly in all spiritual dimensions and where I found a fellowship and the right people I needed to walk with. I also had the privilege to serve in the Christian Union leadership and gained numerous leadership skills. My interaction with FOCUS Kenya was first through the CU Discipleship programs such as Anza Fyt (a first years discipleship program), BEST-P (Bible Expository Self Training Program), and Vuka Fyt (a finalists transition training program). The Focus Staff were of great help in my discipleship journey through these programs. I also got an opportunity to journey through the scripture with the help of the FOCUS BS guides and organized Conferences for all the students from which I benefited greatly.
My motivation in joining the STEM program is to reach and encourage fellow young people to love God and serve Him with all their hearts, soul, strength, and mind. It will also be an opportunity for me to give back to the University/College Christian Union which has significantly contributed to my Christian maturity and growth. I have a deep desire in my heart to serve young people and I hope to find even more avenues to delve deeper into youth ministry.
I pray that during my term in STEM I will be an inspiration to the students I will interact with. That by God's help and grace, I will be able to equip and impact them to live effectively as God's dearly loved children in this modern age. I also hope to grow more in my walk with God as well as gain more experience in ministry.
I am trusting God for ministry partners to journey with me in prayer and financial support as I serve the students. I will be raising my ministry operational costs amounting to a monthly target of Kshs. 22,000. Looking forward to your kind consideration on this great calling, to see students in institutions of higher learning reached with the gospel of our Lord Jesus Christ and equipped for effective Christian living for the transformation of our society. May the Lord bless His work among students.