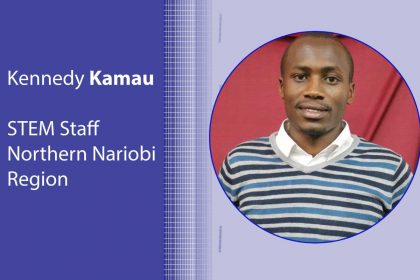 My name is Kennedy Kamau Mwangi. I was born and brought up in Kajiado County, Ngong division, specifically in Upper Matasia. I am a fifth born in a family of 6. My family comprises my parents, three brothers, and two sisters. My Dad is a businessperson while my Mum is a farmer. I started school at Upper Matasia Primary in 1998 and PCEA Upper Matasia Mixed day Secondary School in 2011. 
While growing up, I joined a bad company in Primary school. We were involved in stealing pumpkins, potatoes, and maize to make some money for movies (Video). We could also run away from school and come back at games time. Today, most of my friends back then are drug addicts, but thanks to God for saving my life that I may reach to others. I pray that the rest of my team will come to know the Lord.
Journey of salvation
From childhood, I was brought up in a Catholic church. From 2005 I stopped going to church up to 2012 while in high school form 2. My friends then who were Christians had for a long time been inviting me to attend an interdenominational fellowship they used to attend a church next to our school. On a Tuesday I joined them just to make them happy. Little did I know that it would be my turnaround day. After the fellowship when I was about to leave, the leader of the group (Paul) asked me whether I wanted to give my life to Christ. I accepted it as a joke and he prayed for me and told me I was born again. It was a shock to me because I did not know how I was supposed to behave, but thanks to God the leader of the group walked with me together with other people who helped me grow. University Christian Union (CU) also gave me a platform to grow more. I become a more grounded Christian through Bible study meetings, Best P classes, prayer, and worship ministries with the help of FOCUS Staff and peer mentorship. I served in various positions while on campus i.e., BS Pastor, vice-chair, Chair, Resource Mobilization Committee Chair, RSEC, and NASEC. 
Journey to FOCUS                                                    
The call to join STEM 1 did not come as a surprise because I had a conviction, and I also expected that they might call me. I remember Pauline informed me as a by-the-way after a meeting to plan a regional Kesha with RSEC leaders. My 1st year in STEM was great. When I was called for STEM 2, I did not hesitate to accept because I had a conviction within me to continue serving. I had also experienced a transformation in my life during my 1styear in STEM i.e., in my devotional and prayer life, my reading, leadership skills, etc.
Due to the impact I had seen through my ministry, I knew this was an opportunity that I could not let go of. I am looking forward to 7 months of holistic growth and impact among students.
I pray that God will grace me as I pioneer the work in KCA and also as I serve with Utalii together with my team leaders.
I also pray that God will give me a favor as I do the resource work and that I will be faithful throughout the journey.
Lastly, I pray for my brother, for his marriage is not doing well and for the members of my family to know the Lord.