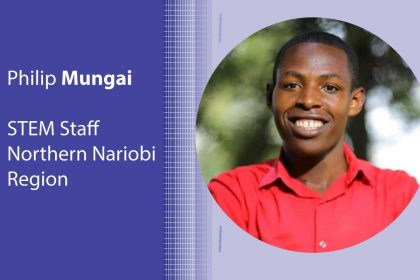 I am Philip Mungai a Former Student of Meru University of Science and Technology where I pursued a Bachelor of Commerce; Finance Option.
My Journey in Salvation
I am neither a Jewish religious leader nor a Pharisee but like Nicodemus, in John Chapter Three I too went to see "Rabbi" at night. I received Jesus as the Lord of my life on the night of 24th December 2011, on a Christmas Kesha after hearing the word and being convicted in my heart that Jesus is the answer to my transgressions and my iniquities. At the beginning of my walk with God, I walked with emotions, but slowly I started learning that all the steps I take in life with God are by Faith. I learned how to pray and with time I started waking up in the morning to pray and meditate on my life and commit my day to the Lord. As I kept walking with the Lord, my trust and faith became firm in him and my life was transformed. I started loving hanging around born again brothers and sisters, and later I started attending Bible study meetings in Church and school and spent more time in prayer. The more I got to know God, the more I realized how much I need to know. The journey has been wonderful and the Lord has been faithful.
Catalyst of Growth
In 2016, I joined the University and luckily, I found some like-minded evangelical Christians. They introduced me to University Christian Union, which organized small Bible study meetings and regular meetings. In the same year, I attended Ezra Conference, a triennial-one-week-program on discipleship and scripture engagement training organized by FOCUS Kenya. This conference equipped me with the attitude, passion, and skills that have enabled me to grow as an effective student of God's word. Ezra changed my approach to my devotion and now I read the Bible consistently, study the word thoroughly and inductively and apply it faithfully as I proclaim it effectively. FOCUS Kenya conferences including Commission 2017, National Leaders and Mentorship Summit, and Ezra 2019 also formed a catalyst to my growth. My interactions with senior Christian students, associates, STEM Staffs, and Campus Ministry Facilitators have also helped me grow, especially in mentorship.
My Journey to STEM
The invitation to join the STEM program came one week after I sat for my final exams at University. The consideration to join the program was overwhelming, because of the expectations, especially from home that after school I would probably look for a job and become a breadwinner. However, I considered joining the program because to me it was a prayer answered. I remember in my third year on Campus expressing my desire to serve for one year before I could join the corporate world to my roommate and a few friends, and now immediately after clearing school, God brought this opportunity my way. I also felt that I need to be part of what FOCUS does, which is incredibly wonderful; Reaching Students Transforming Nations. I want to be part of this life-transforming movement.
I am looking forward to growing in my leadership skills through formal and peer mentorship provided by FOCUS through this program, and through apprenticeship, as I offer Discipleship and mentorship to university and college students. I desire that by the end of one year in this program, I would have gained skills that will transform me into an all-round value-based leader who will be a responsible citizen and an agent of social transformation.
 My Prayer
May the Lord God almighty bless FOCUS as a movement, I pray for all the staff and stakeholders. May the Lord help FOCUS to accomplish and execute all the plans, objectives, and strategies set for the growth of the ministry.

I pray for all the students in colleges and universities and especially those that God is sending me to minister to, may the Lord give them a teachable spirit and the grace of understanding His word. I pray that God will prompt them to desire to have a personal relationship with Him. I pray that God shall give us a good time of learning together, and I desire that we shall be compatible in Jesus's name.

I thank God for those who have stood with me in this ministry. I pray that God will keep them happy, healthy, and meet their needs as they continue to trust in Him. I pray that God will provide for those planning to support me in this Ministry.