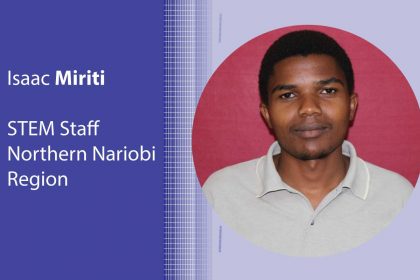 My name is Isaac Miriti. I am a graduate of the University of Nairobi (UoN) with a BSc in Meteorology. I am serving as a STEM staff to UoN Parklands and as the STEM administrator.
My family comprises four members. My dad is a county irrigation officer, my mum does farming and partly works as a correspondence to a mission agency, and my sister is a trained teacher, doing homeschooling to students around Nairobi.
Despite the fact that my nuclear family is small, we had many dependents. That is my uncles and aunties who are my dad's younger siblings. This was due to the death of my grandparents in the mid-'90s. The commitment of my parents to support their siblings amazes me. It has made me pledge allegiance to my extended family. I also desire their commitment to the church, for they are both serving as elders in their different congregations, something that I desire too. 
My upbringing was accustomed to moving from one location to the other as my parents were pursuing their careers. This made me join boarding school at the tender age of nine years. As a result, I could not make meaningful relationships which contribute to my introverted nature.
As I was growing up, I attended Sunday school and church, which instilled in me godly values. In High School, I acknowledged following Christ deliberately through the discipleship program of the Christian Union. However, I was not a regular attendee of CU meetings since they collided with Saturday evening entertainment, and being a football fan I could not imagine missing a football match for a CU meeting.
The Lord, however, captured me in University, where my journey to FOCUS began through the Christian Union. Joining STEM was not a tough decision since I longed to serve students, having had an experience on campus and a deep admiration of the FOCUS staff.
For the next seven months, I feel privileged to serve in Parklands Christian Union. Because of the nature of their career, I know that the students will have an enormous influence on society in the coming years. I am compelled to surrender everything as I serve them, understanding that their career will impact hugely in various sectors of society. I desire to instill godly values in the students and mentor them to be radical Christians who can passionately convince a court to make a Christ-like ruling. I also desire to impact them to become judges who will decide in godly values and be the light of Christ shining in whatever sector of the society the Lord will place them.
I also desire to be nurtured to a balanced Christian, loving the Lord with my heart and mind, seeing the world in the eyes of Christ, and leading a life that glorifies God. I am also eager to continue in the path of self-awareness to be fully aware of the spaces the Lord is calling me to influence.