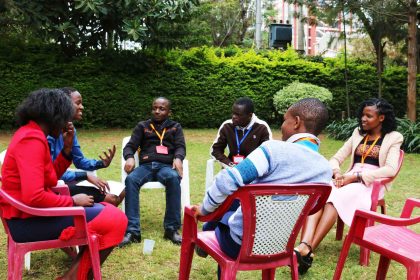 I am Erasto Wamuti Wanjau, serving in Moi University Main campus and Kapsabet CUs.
Before joining stem, my biggest anticipation was adapting to a new environment and mingling with people of a different culture. Having spent 5 years in a moderately warm place, the move to Eldoret was quite a shift. Another question I had was whether the students would receive me well.
The labor has been worthwhile, ministry has shaped my inner life. I have grown in keeping my personal devotions consistent and my resolve to read books has deepened. My prayer life has received more reinforcement and fasting which was not a discipline before is now a friend to the benefit of my soul. Student ministry moments have given me smiles when I recall the leadership trainings and the BEST-P classes I facilitated especially on studying the Bible inductively. The preaching engagements challenged me to revisit the gospel more and more than I would otherwise do. The team of STEM staff and CMFs we worked with was very supportive. I enjoyed the moments we would visit associates involved in student ministry. Sharing my ministry experiences with partners was warmly welcomed and more times I left the call more resilient to grow in intercession.
My design instincts have been pushed a notch higher especially on posters and newsletters, the presentation skills, digital content creation, and public speaking have been improved through it all.
My prayer is that God may cause the students to grow in the grace of God and fulfill their dreams in school. That God would supply the needs of partners who stood with me in my ministry and that FOCUS ministry may endure the ministry hardships that have been intensified by the COVID 19 pandemic. May the Lord guide me in the next phase of my journey. That I may be salt and light in the corporate world and fulfill my ministry.