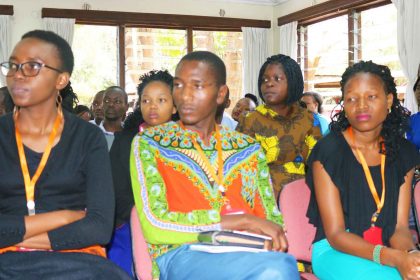 My name is Geoffrey Muniu Machungo,  the  STEM Staff for Murang'a University CU, Michuki TTI CU, Mathioya TTI CU, KMTC Murang'a CU.
When I was joining STEM  last year in August, I was so expectant to reach and equip students with the truth, grow in my life holistically and understand more about students' ministry dynamics.
Ministry amongst students has been so exciting and very fulfilling especially when I witness students giving their time and energy to serve the Lord and others. I remember Murang'a CU's  selfless assistance to the new students and zeal for togetherness, the bonding and interactive sessions with the students at my place, the overwhelming passion for God in the Michuki TTI CU members among many others.
For sure God has shaped me and worked on me more than I have served Him. This has helped me rest in the assurance that He is sovereign over all things I experience. I am strongly convinced that in all that I find to do, I must do it with all my might. When all is said and done, I hope my work will stand the test of time.
STEM has also inscribed indelible skills that will be helpful the rest of my life like designing,  public speaking, communication skills, financial management, guidance and counseling, and sustaining a reading culture.
I pray for the students that God will keep them and give them the strength, desire, and commitment to remain steadfast to Him and always keep their hope alive in the Lord. I also pray for all my ministry partners for God to bless them and always remember them. For FOCUS Kenya, I pray that God will sustain us, give the staff the strength, more zeal, and wisdom as we serve amongst students, and raise individuals to support this ministry financially.
Having trained as a Nurse, my call is to go back to Nursing. I strongly believe this is where God wants me to serve Him and I'm trusting Him to guide my ways that I may bring glory to His Name. I am also hoping to be involved actively in the church ministry especially in the youths ministry and discipleship.