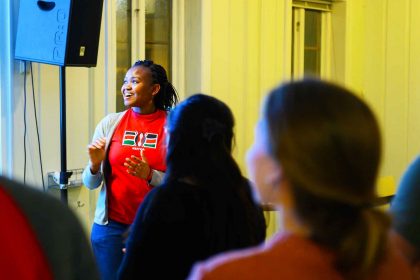 The call to go for the exchange came at a point where I was so determined to go back to school for further studies. I did not want to just say yes because I knew it was not deemed to be an easy experience. Eventually, I said yes to a journey of faith, quite scared, but believing that my sight of God would become clearer.
During the orientation, we were helped to reflect on 1 Cor 5:1-21. One of the things that kept resounding in my mind was, "Not regarding people from a worldly point of view puts aside the prejudices and helps us see them as a mission field." This became very practical the moment I met my colleagues at Hald: an environment with people from 8 countries and four different continents. Learning bits about the other cultures and getting to share my own was surely enriching. There was always so much to talk, learn, and laugh about. This opened my heart to people and my mind to the world at large but there were conflicts within the self that kept poking.
Change has the power to make you feel like a baby, especially in this unfamiliar world. In most of these instances, I was relearning who I am. I remember a time when my ideas did not make so much sense and it was as if my creativity had been paralyzed. Consequently, this made me look at myself from the outside, affirm some values, form new ones, and then when I thought I was getting there, there was more.
In this context, religious conversations are not obvious, this is because faith is very personal to most people. I am thankful to God that I slowly learnt the art of asking leading questions. It is so amazing that any aspect of life points us to the gospel.  However, mostly when we would have some of these talks, we would either totally disagree on core beliefs or I would be left in shock if not offended at how people view and relate to God. Sometimes it was the priest who took a cigarette break during a church service or a friend who totally disrespected and denied the existence of God or a believer who was gay and used the Bible to prove his rights or reconciling the fact that to some people Christianity is a religion which to them is translated as just an aspect of culture.
The more God helped me see how the gospel applies to my everyday life including my cultural beliefs, the more I experienced His deep love for me, the easier it became for me to be open and dedicated to other people. Now, more than ever I acknowledge that in the fabric of every human being from all the cultures of the world is the image of God. The gospel is most essential to help man see himself for who he truly is.