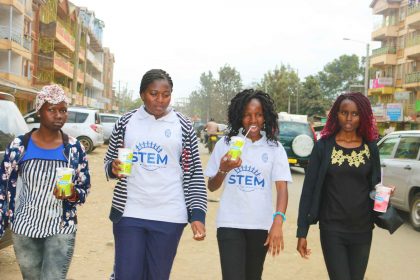 I am Neema Apondi. Serving as the STEM staff Kibabii Christian Unions.
Talking about the one year experience is a testimony. From the beginning, it seemed so long a journey. It has however turned out to be a journey of the discovery of God's hand at work, co-working with Christ Jesus, and learning to depend on God's leading. Knowing that this is His work has been my source of encouragement. Realizing that God works in me and through me. I am only a vessel. Indeed one of my expectations while joining STEM was to be of noble use in the household of God. That he would use me to impact the lives of students in Kibabii. I looked forward to being fully involved in the lives of the students, as a  mentor and a friend.
Some of the exciting moments were the opportunities I got to train CU leaders and preach in the CU. Seeing students giving their lives to Christ was fulfilling.  I believe these moments have shaped me into a better teacher of the word. I remember attending CU retreats. The bonding activities would bring the students to a place of being real about issues of life, for instance, social and academic aspects. Identifying with their struggles would connect us in a great way.
I have learnt patience with myself and with others. I realized that God is not done with me yet and that I have to be pruned in the way I handle people with different personalities. I have learnt to rest,  finding time with God, myself, and meditate on His word. This can not happen in a heart that is not at rest. Resting would and still helps me bring things to order in my life.
Thinking about the person I was while joining STEM, I am grateful to God that my interpersonal skills have been enhanced to a greater extent and my public speaking skills have been developed too. I have learnt over time to reach out to a multitude. I have also learnt to listen to people more keenly and give them the necessary attention, this has resulted in me being close to individual students who do not easily share their thoughts. I hope to get to a point of practicing more of this in guidance and counseling.
My prayer is that the students I interacted with, will be better people in society. That they will impact more lives towards the knowledge of our Lord Jesus. I am also grateful to all my supporters including my parents who sacrificially gave themselves towards this program. They have been part of this journey and I pray that God may replenish them. May God watch over them during these tough times. To FOCUS family, I am indebted to you for the opportunity I was given to serve among students for this one year. It is not in vain I am a beneficiary. I pray that more young people in institutions of higher learning will be impacted to reach out to students in the whole world through this ministry.  May you find favour with God and all the stakeholders.
I have a desire to embark on my career as a horticulturalists. I believe that God will not only use me to build the nation but also to make Him known to people I will meet in the corporate world and in my surrounding.