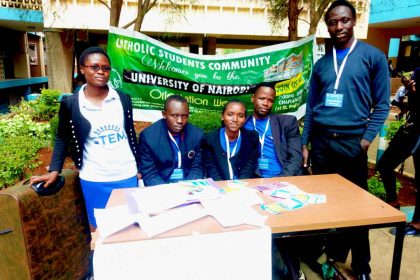 Wekesa Naomi is my Name, a STEM Staff at UON Main and Chiromo Campuses.
At the beginning of this journey, I had visualized the end product of STEM, knowing that my leadership skills would be sharpened.  As much as COVID-19 interfered with some of my expectations, the Lord provided another way of accomplishing them through online ministry. Glory to his name for establishing my plans.
My high moments in ministry included the engagements with students, modeling life and faith, offering support, and mentorship. It has been fulfilling to know that the Lord has used me to impact lives. In the process l gained many values and convictions among them; being true to the Holy Scriptures, integrity, valuing others' opinions, selfless leadership, diligence, commitment to excellence, and integrity.
Some of the skills I have gained in this journey range from journaling, basic accounting, team-work, vulnerability, mentorship, counseling, and public speaking, and many others. Indeed I'm different and my life changed for good since I joined the ministry.
I pray for my students that the Lord will continue to strengthen them in salvation and increase their zeal of knowing Him more. To the partners who have supported me in different ways in l pray that the Lord meets the desires of your heart and bless you according to His will. To FOCUS Kenya, thanks be to God for allowing you to be used to mold me to what God wanted me to be at this time.