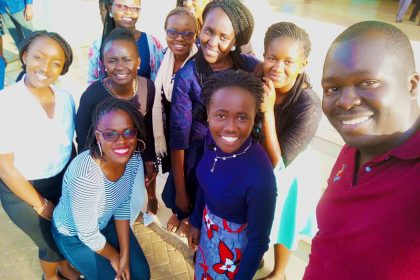 I am Jedidah Mumbi, the  STEM staff in UON Medical School and Kenya Science CUs.
I remember vividly after the staff orientation program (SOT), I went back to my STEM house feeling equipped and ready to take up the role bestowed to me. The training stirred up in me the quest to learn more about God. I wanted to know how I could contribute to the transformation of the people around me. I desired to live out the faith, practicing it before I could teach about it. I wanted to be authentic.
My high moments in the STEM journey was having students visit my house, having talks together, and when I did one-on-one ministry with the students. I cherished these moments because I was certain after every conversation a life was transformed and I was left edified too. STEM has changed my perspective of life, that God is the main character in my life story, in the past all I would work on was achieving my goals and ambitions. But now, all I need to do is fully give myself to Him for He knows what is best for me, and my conviction is that I need to surrender my life to God and allow His will to take cause in my life.
My interpersonal skills have really grown a great deal in my one year of interacting with students, staff, and my partners too. It is my prayer that God will bless and continue impacting the lives of students through the generous giving of the supporters together with FOCUS and the good work they are doing of transforming lives. As I join the corporate I feel transformed and ready to transform others out there, it's my desire that I will apply every skill I have gained and be the salt and the light of the world.