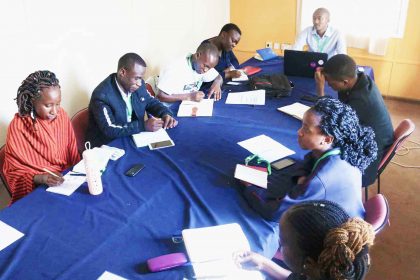 My name is Peter Parsimiti, the STEM Staff for UON Parklands Campus and STEM Administrator.
One year is truly short but also long enough for the experience. I'm persuaded that I am leaving a better person. Through the year I mentored, trained, preached, handled "big" money and I got friends.
The days I found myself in town past midnight from students' meetings that extended beyond their schedules and I was expected in the office that same morning will be lingering memories. The many theological related questions I had to answer made me appreciate the place of God's own empowerment.
Out of this my faith has been shaken and realigned. The question of life's meaning was answered. Not to mention gifting's revealed. I'm leaving STEM as a good communicator, a better trainer, emotionally intelligent, and a better people manager.
To my students, FOCUS associates, Staff, and other stakeholders, I pray that God will supply all your needs (spiritual, social, economic & physical) according to his riches in glory. To my dear partners, I'm certain my journey wouldn't have been smooth without your back. I exit my head high knowing that someone held my hand.
In a nutshell, I can say: "I came, I saw the nation, I sought the Lord and He gave me."