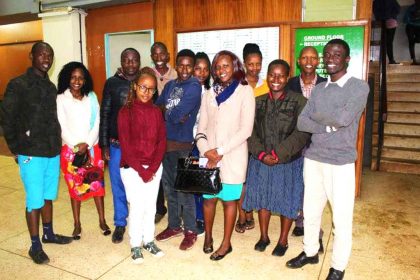 I am Gideon Lyomu, the STEM staff Karatina and Kirinyaga CUs.
Coming into STEM last year, I was eager to learn and grow more. STEM has shaped the basic principles of work and helped me develop life-long convictions. I have also been introduced to my real self and my eyes opened to the potential I have, areas to be worked on, and God's work both in and through me. It's been an amazing journey of self-discovery.
One of the great opportunities that STEM has given me is the chance to share life with others and grow in my interpersonal skills such as communication and openness. Being part of students' life, helping them, and seeing them grow wholesomely is one thing to be grateful for. Knowing that I'm working with a team and hence what affects me affects them too, I have been able to appreciate and embrace vulnerability which has greatly boosted my teamwork.
I believe that every skill and value acquired or improved during my service in STEM staff will help me be a better fit for my service to God through my finance career and or any other capacity that comes my way.
Now more than before, I am more confident in the work God is doing among students and ultimately to the world through FOCUS. Student's ministry is a worthy cause, one worth investing our time, energy, and resources to see it flourishing. The one year experience in STEM remains an unforgettable one to me, one I'm deeply grateful to God for.