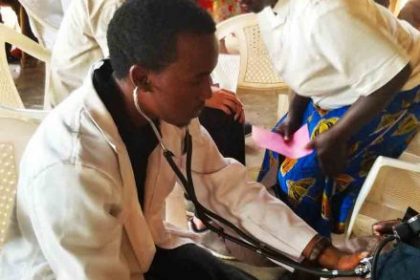 The Conviction and Call
I can still recall the voice of the Missions Director brother Calisto Odede, during Commission 88. I was the Kenyatta University Christian Union (KUCU) secretary during that year. I remember listening to him being convicted to avail myself to serve the Lord as He sends me.
I went on to teach for two years and got an opportunity to serve in Fellowship of Christian Unions (FOCUS) Kenya as a STEM staff. I then became a social worker at the Compassion International project in Mathare where I was a training secretary. I met the National Youth Leader in the Presbyterian Church in that time, a very active associate of FOCUS, and in the Lord's time, he became my husband and ministry partner.
Hosting International Students for Bible Study
In 1999, while I was just about to finish my second contract with FOCUS, God opened an opportunity to go to USA on the green card diversity Visa program. We had no doubt in our minds that the Lord had prepared us to serve Him in whichever ways He would avail. We started out by hosting international students for Bible studies in our city and reaching out to other foreigners around us for fellowship. However, looking for a suitable church to belong to was one of our biggest challenges.
Struck by my countrymen suffering
In December 2003, we traveled back to Kenya, only to be struck by the height of the HIV crisis in the country. We wondered how in the US many HIV positive patients managed to live without the stigma many at-home experiences. We felt that we had a very limited understanding of how to resolve this. On our way back to the USA, we decided to pursue studies and acquire some knowledge of health care. That would not only help us to only find meaningful work in the US but also to serve through medical missions back at home. We attended the Urbana Missions conventions and this experience clarified the call to opportunities of integral missions.
We prayed and shared the vision with some of our friends and mentors including our former professors. We also contacted several mission organizations that did this type of work globally to learn from their experiences with international missions. We chose to start our first medical camp in upper Matasia Ngong, where I grew up, since we were more acquainted with the needs of the area. We have had similar mission outreach in Oldonyonyokie, Kericho, Embu, Nakuru, Ndaragwa, Shamata, Ololtepes among others.
Partnering with like-minded organizations
Partnering with local church leaders and healthcare professionals, offering free primary health screenings, treatment, and prescriptions and referring any complicated cases to the nearest facilities who we report to as well as sourcing for equipment needed by facilities and needy individuals make up our major roles. We make use of this good opportunity to witness to waiting patients, clarifying that healing and salvation are the work of Christ.
We have seen growth in the numbers of volunteers supporting this mission both from the US and in Kenya. One of the schools we partner with offers scholarships and college credit to students who volunteer to serve during their summer break. There has been an uptake in attendance by patients needing care. Our focus is on preventative care, teaching with leadership and follow-up by staff from nearby facilities. The mission has diversified this mission to include supporting education especially through high school scholarships for many needy students. We have also provided new desks for students in elementary schools.
Our journey has not been devoid of challenges. Some of the things we grapple with include:
Doing ministry alongside having full-time jobs and parenting two active teenage girls
Operating in two very different parts of the world.
Insufficient understanding of mission even by well-meaning folks.
Financial strains- resources are hard to come by, especially if you are not the traditional missionary.
Shipping of donated supplies & equipment is expensive.
The commitment of time for preparation and travel
Misunderstanding by family and friends who may not understand why you cannot spend enough time to visit with them.
Results are not instant but the real impact in the lives of many in challenging circumstances
The Lord has granted us to also achieve several things, including:
Seeing churches get more involved in healthcare. Pastors report that attendance improves.
We have seen some get diagnosis and treatment that was lifesaving.
Many nursing and medical students graduate and come back to volunteer as qualified professionals.
We have also experienced God at work in many ways. Our highlights of the journey include:
Even with limited time and space, we have had critical illness cases that required further interventions where we have followed up and offered financial support until the cases were resolved.
Many students have given testimonies of finding purpose and calling through the investment in their lives.
God has provided for our needs, expanded our vision, challenged us and opened doors for opportunities to serve.
We have had unique opportunities to share our faith among colleagues.
Finally, to those that aspire to do integral missions, pray first, consider your gifts, seek counsel, be equipped, prepared to give of yourself and your resources with lots of patience. This is a unique mission opportunity because John 12:8 reminds us that the poor shall always be among us.