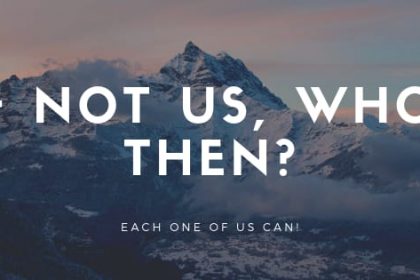 Every time I have studied the book of Nehemiah, I have prayed that God would raise a Nehemiah generation in our time. A generation that has not only the burden to see the transformation in the society, but also one that is ready to transform the concerns into tangible actions. For this to be achieved, one must have counted the cost and committed to doing the right thing even if it means that they will be at it alone.
Genuinely concerned
When Nehemiah received news about the condition of the walls of Jerusalem, he was filled with grief and mourned for many days (Nehemiah 1:4). Even though the book of Nehemiah does not explicitly give information of what other people or leaders back in Jerusalem were doing concerning the ruinous walls, there is an indication that they were not concerned as much (Nehemiah 3: 10-16). For this, they needed a Nehemiah who was both concerned and committed to seeing the restoration of Jerusalem; one who could clearly and convincingly communicate the need and rally people to action. This is what every person need for societal transformation. In addition to this, one ought to pay attention to the following principles:


Awareness and Salience of the issue – someone needs to be aware of the issue at hand and find out whether it matters to them and why?
Intrinsic motivation – One needs to find out whether they feel the moral responsibility to address the issue?
Efficacy – Do you think your action will have an impact on the system?
Capacity for collective action – Will other citizens/people join me? Is there an organization that has the capacity to launch actions on this issue that you can collaborate?
Cost of Inaction – What is the cost benefit of my participation? Am I afraid to act? What is the cost of not taking an action?[1]
The problem is inaction
We must remain committed to this course and as noted by Haile Selassie, "Throughout history it has been the inaction of those who could have acted; the indifference of those who should have known better; the silence of the voice of justice when it mattered most; that has made it possible for evil to triumph". God has called us to be the salt and the light of the world (Mathew 5: 13-16) and that 'world' is where we live, work and the people we interact with daily. That is the ''world'' we need to influence by doing the right thing as an individual or community. Samuel Koranteng Pipim observes that time has come for Christians to be ashamed of a superficial religious experience, the mediocre performance, waffling positions and the cheap vanilla-faith that costs nothing. He further notes that unless we are radically committed to the Lord and His word, our profession is empty sloganeerin and that radical commitment is a call to Christian Non conformity and a plea to stand out and be counter-cultural. Anything less would be unbiblical, irrational and irrelevant – if not a betrayal
Let us challenge the status quo
We must be brave enough to say enough is enough, that we will not settle for the status quo, and that we will challenge the wrong cultures in our society and in the market place – our world. We must be ready to walk the unpopular path even though we will be alone. The story of Allen Kagina from Uganda is a shred of evidence that we can completely change our systems if only we make a choice and allow God to transform the world around us through. As the Director General of Uganda Revenue Authority, she transformed the institution to efficiently collect tax leading to 317.5% increase in tax collection.[2] Like the Daniel and Joseph of the Bible, Allen is the contemporary embodiment of transformative Christian living. This is the Christian calling and this is what we must do- being light and salt to the world.
Friends, it's possible to bring change, we just need to be bold and radical. Christ was radical for calling sin by its name (John 2:12-25). He even called the Pharisees children of the devil, as stipulated in John 8:43. The grace of God is free but being a disciple of Christ is costly. We must therefore be ready to count the cost and pay it. According to Matthew 16: 24, "…Jesus said to His disciples, "If anyone desires to come after me, let him deny himself, and take up his cross, and follow me". This means that it is more than going to church; it is about the truth of the word of God changing us, renewing our minds and transforming us from the inside out.
We must be ready to say "….But as for me…" like Joshua did in the midst of idolators. (Joshua 24; 15). We need to be the salt and light of this world as Jesus expects us to; in arresting corruption and moral decay of our society and in expelling spiritual darkness. We need to be counted!
---
[1] Helene Grandvoinnet, Lead Social Development Specialist, Governance Global Practice, World Bank.
[2] Samuel Sanya (25 October 2014), What makes Allen Kagina tick, New Vision. 3rd May 2019
< http://www.newvision.co.ug/new_vision/news/1313159/makes-allen-kagina-tick >