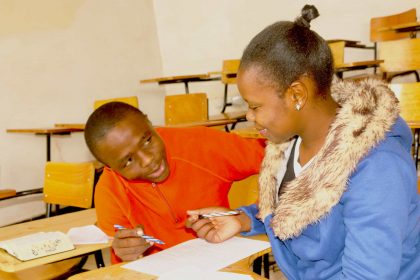 Joining a college or university is an exciting journey, it is always a dream come true. I still remember with nostalgia the day I received my admission letter to the university. Unlike these days of portals and online registration, we received a booklet of admission documents via the postal office. There is something unique about hard copies.
Freshmen and women in 2020 are joining the university in unique times of social distancing, thanks to COVID-19. They may never get to know that they escaped meandering queues at the finance department and the scramble and partitioning of the limited accommodation facilities in the leafy suburbs of the campus. The communities around the campus will miss the sight of youngsters walking with huge bags on one hand and engineering rulers on the other hand.
Whether you joined the university in BC or during COVID-19 times, the opportunities and threats in institutions of higher learning remain unchanged. Besides whether graduating with a diploma or a degree, the campus is an important institution that breaks or makes individuals dependent on the choices they make within the limited time they have in school. In this article, I share five things every new student should put into consideration as they begin their journey of higher education.
Work hard and seek to learn
By the time you are reporting to your campus, you are likely to have heard all sorts of advice and some are misleading. A number of students in the university do not work hard. All they want is to pass the exams. A careful observation of campus life shows that students live large until two weeks to exams when they settle down to cram. A good number of university students are not out there to gain knowledge. Such a view on education could explain the existence of many uneducated graduates in our society.
As for you, take studies seriously. Your personal study may not reflect in your grades but it might be your cutting edge. Research read beyond the course work and occasionally visit your lecture notes for the sake of your exams. Do not heed to the deception of reading for exams. It is the least valuable thing to do in a university or college.
Be an all-round student
I played basketball and handball in high school. I hoped to continue with the hobby while on campus. As a matter of fact, I registered for the handball club and participated in the club for one month before my attention shifted to the Christian Union activities. Had I known, I would have participated both in the Christian Union activities and the co-curricular ones.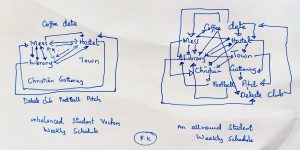 Join a club or an association that will grow you intellectually, socially, and physically. If I was offered another opportunity, I would join the handball team, the Christian Union, and the Peer Counselors club. I would allocate reasonable proportions of my time to each. Do not be a Mess to Library-Hostel vector kind of a student. As much as time allows, try to benefit from other resources on the campus.
Cultivate healthy relationships
The university has already sieved – a pool of people who can match your interests and intellect. You may never find such an opportunity in life. This is where you can easily find your business partners, mission supporters, or even a spouse. This does not call for a -haphazard pick and drop kind of interaction. It calls for a careful interaction that slowly but consistently leads you into a circle of people whom you share values, convictions, and interests. Some of these may not be the kind you like or connect with at the first sight.
You do not want to specialize in your friendship and relationships in the first year. More so, It might be risky and enslaving to commit to a love relationship. In the first year, you are yet to meet the array of possible potential candidates. So, relax, interact freely, and carefully take note of acquaintances. At the right time begin to spend your time with a few students who add value to you. You will find out that peer learning and mentorship is a powerful tool for growth in life.
Keep in touch with your home community
You may have been waiting for the time you would break the yoke from your community but you need your people for life. This community includes your immediate family members, neighbors, your local Church, among others. There are limitless reasons you need to stay connected to your people. First of all, the community has played a huge role in shaping you into who you are today. Secondly, there are people who are looking up to you.
You have to keep nurturing such even if it means attending some youth group meetings. Your presence there, even without uttering a word, is a motivation (or is enough motivation). Thirdly, you never know what the future holds. You might be in dire need of their support in the near future. So, call home, visit, and participate in some events when time allows you to. If you have an opportunity to take your new friends to your home and do so without hesitation.
Grow in your faith
Faith is an important aspect of a person's growth and development. The university and college provide a unique opportunity for growth during this phase of life. Over the years, The Christian Union has proven to be that institution in the college or university that offers a lifetime opportunity for spiritual growth and development. If you are a believer in Christ, then this would be the place to be for your spiritual nourishment. If you are not, it never hurts to try out something new. It may be all you needed for the remaining part of your life.
The CU is your transitional local Church. Your campus is likely to be miles away from your local church that you have known since Sunday School. I believe that a local Church should be within your locality. The CU provides a haven considering the accommodative nature embedded in the interdenominational factor. Three or four years is a short time to embark on a hunt for an intermediary local Church. It will offer you a perfect place of worship and fellowship for the period you will be a student in that institution.
The CU will spur your growth towards maturity in discipleship and leadership. It is a student-led organization. When you listen to the exploits by students across the world especially on missions, one can only marvel at what young people dedicated to the Lord can do. Leadership is best caught than taught. Being an usher in the Christian Union may just offer you a hundred times more chances of growing in leadership than listening to 100 sermons on leadership. To some students, CU leadership is the only training they have received for pastoral work.
The CU will broaden your perspective on faith beyond your denomination. I will never forget the first sight of brethren prayer walking in the CU. I had grown in AIC, a quite conservative denomination with order and systems. Now, I was in this CU meeting and wondered why everyone was praying by themselves and loudly for that matter. It is also the first time I saw girls in trousers leading praise and worship and speaking in tongues, something that I could not reconcile because I was coming from a school of thought that painted as sinful. As time went by, I came to realize that most of what we consider spiritual is influenced by our backgrounds. Much of what I held sacred may be non-essential when it comes to worship. Had I not been in the CU, I would still believe that only my denomination is right yet there is no Jew, nor gentiles in the kingdom of God.
What you need to know is that the CU serves you only when you are on campus. Those who have tried to remain in the CU post campus sooner than later realize that they no longer fit in. Therefore, take the opportunity to mature in leadership, discipleship, and missions and give back to the society upon your graduation. Seek mentorship and pastoral care from the available opportunities such as the CU Patrons, Chaplains, Christian Faculty members, FOCUS Staff, and the older students in the Christian Union. However, first be a follower of Christ. Do not look down upon yourself because you are young. Do not neglect mentorship and discipleship but also do not idolize the same.
In conclusion, the university or college life is a great and a lifetime opportunity for growth and development. Take your academics seriously. Try two or three- co-curricular activities at the university. Exploit the sea of opportunities to develop healthy relationships. Do not forget where you have come from. Grow in your faith and if you can, join the Christian Unions. There are a number of online induction and orientation programs by different CUs going on at the moment. Search for the CU in your college or university through the different social media platforms and connect with other brethren on campus. Then work hard and do all the learning that is possible.