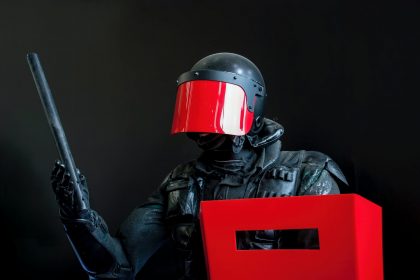 Human Rights Watch reported at least six people died from police violence during the first 10 days of  Kenya's dusk-to-dawn curfew imposed on March 27th to contain the spread of Covid-19 (Kenya: Police Brutality During Curfew, 2020). According to International Justice Mission Kenya, 1 in 3 people experienced police abuse or harassment in 2018. In 2 out of 3 felony cases, police never gathered enough evidence to charge an alleged offender. Kenyan prisons are full of innocent people who are jailed because the police abuse their power to wrongfully arrest and extort them and the accused do not have a lawyer to fight for their release (IJM 2019 Casework Fact Sheets Police Abuse, 2019). What should be the Christian response to these kinds of issues? Many times, Christians rarely think much about them or even question themselves on what the Christian response should be. Sometimes it doesn't even occur how rampant these issues are until someone points us to that direction or they affect those close to us.
In many developing countries, police can detain suspects in jail with no evidence and sometimes, it is easier to frame vulnerable people who may have limited formal education to conclude investigations quickly. Without an advocate, victims of false imprisonment can stay in jail for years. There are examples of identified cases in Kenya of innocent people detained up to 17 years before being put on trial. Vulnerable people can be imprisoned, based on a false accusation, simply by being in the wrong place at the wrong time or even for being unable to pay a bribe to a corrupt officer. Court proceedings are often held in official languages (English and Swahili,) which some of these victims don't speak or even understand and translators are not always provided (Police Abuse of Power in Kenya, 2020). This puts them at a disadvantage leading to some being imprisoned for crimes they didn't commit.
These are shocking statistics of issues that happen within our neighbourhoods or to our fellow Kenyans. Kenya Human Rights Commission report released in July 2017 stated that 141 people were killed by the police in 2015, 204 in 2016 and 80 people as at June 2017. The report further indicates that the majority of those killed are young people between the age of 17 and 23, most of them male from low-income areas where most are suspected to be criminals. Don't criminals have a right to trial? Should the police be the ultimate judge and executioner of whether they live or die? Is killing them how we achieve justice for the crimes they have committed? Bryan Stevenson, a Social Justice Activist and Lawyer, says, "we are all more than the worst thing we've ever done, we all deserve mercy and compassion."
The role of the police is to protect, control, detect and investigate crimes but as outlined above there are times this has not been the case. These can be attributed to several reasons, first, the recruitment process is not effective and only lays emphasis on the physical fitness of the candidates over other important qualifications. Secondly, there are indications of corruption, nepotism, tribalism not only in the recruitment but sometimes extending to the training process. Third, there have been systemic problems caused by the absence of checks and balances and fragile institutions that are supposed to have oversight of the police service. This means it is difficult to hold the police accountable for their actions hence encouraging them to operate with impunity because they know they will get away with it (Spooner, 2020). IPOA has been working to ensure these narrative changes and they have currently had two policemen prosecuted with a number of cases still ongoing, we must do all we can to support this institution in holding the police accountable.
As I reflect and read these issues, I am reminded that evil is real in human nature (unless Christ has redeemed us) and we need the police to fight it, but it is also the reason we need to hold them accountable. Sin infects every part of humanity; mind, heart and will, and it affects everything humans create at an individual or corporate level. It affects systems and structures built to make the world more efficient and safer, sometimes casting long shadows of oppression and injustice through underlying systems and structures that outlive their creators. Believers should always remember that human beings are created in God's image (Imago Dei) with an intrinsic value and dignity which needs to be upheld at all times despite their tribe, age, status, colour or background. Isaiah 1:18 says, learn to do good; seek justice, rebuke the oppressor, defend the fatherless and plead for the window. I ask myself what it means to rebuke the oppressor and to seek justice as far as these issues are concerned. I believe that Christians should be at the forefront condemning the injustices, adding their voices to other institutions that are fighting and rebuking the oppressor. Addressing prejudice, injustice and systemic inequality is not a distraction from the Gospel but it is an integral part of it. Christians cannot say "it is what it is" or believe in quietism that throws up hands and twiddles thumbs until Christ returns but must uphold justice and righteousness even in a broken world. We, as His body, are His Hands, Feet, Mouth and Ears in the world today. As Bonhoeffer said, "we are not to simply bandage the wounds of victims beneath the wheels of injustice, we are to drive a spoke into the wheel itself." Our response to these issues should always be motivated by our love for God, our love for our neighbours and obedience to our Lord Jesus Christ. The world should experience the love of Christ and our faith in Him through our actions as believers.
What practical things can Christians do in response to police brutality? Some of the practical things that Christians can do especially the young Christians in the institutions of higher learning (most are within the age that is most affected by police murders) and Christian professionals is to integrate Christ's mind in this area and apply scriptural principles of justice, equity and dignity of human life by pushing for greater accountability and transparency of the police force. They can advocate for changes and reforms of policing in Kenya to ensure they serve with dignity and integrity. The first step is to educate themselves about their constitutional rights, the policing system and also the issues of police abuse in Kenya. Knowledge is power and having an understanding gives an upper hand not only to debate on issues but to conceptualize action. Chapter fourteen of the Constitution of Kenya stipulates the principles of national security which shall be pursued in compliance with the law and with the utmost respect for the rule of law, democracy, human rights and fundamental freedoms (Kenya, 2010). Understanding the structures that have oversight over the police service such as Independent Police Oversight Authority (IPOA) and Internal Affairs Unit in terms of their mandate, their processes and engagements will go a long way in informing actions.
Speaking up against these injustices is something that each of us can do whether it is physically or
joining a peaceful protest on the streets or joining online campaigns. John Lewis, a renowned American Civil Rights Activist who passed on this month believed that when you see something that is not right, not just, you have to speak up. We should say something; we should do something. Proverbs 31: 8-9 says, "Open your mouth for the speechless, in the cause of all who are appointed to die. Open your mouth, judge righteously, and plead the cause of the poor and needy" (NKJV)
Other ways young people can participate is by joining organizations on a volunteer basis to offer skills, competencies and time to the organizations that are advocating for change and reforms in this area of policing. Following their social media platforms or subscribing to receive newsletters is an excellent way to keep yourself informed of what is going on and to identify areas of engagement. The pursuit of justice costs money and one way to partner with organizations advocating for change and reform of the police service is to support them financially to enable them to carry out some of the engagements such as providing legal support for the innocent or guilty (it's a constitutional right) victims, carrying out campaigns and providing professional training on investigations. The Christian lawyers can also offer to probono services to such victims to ensure they get justice and Christian professionals should also take up positions in these institutions to drive the change and transformation that is needed. John Stott in his book Radical Disciple says personal commitment to change our lifestyle without "political" action to change systems of injustice lacks effectiveness (Stott, 2010).
If we combine efforts and each of us does the best they can, then we can achieve a more just and equal society.