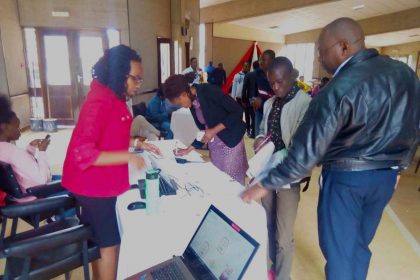 I am Pauline Njoroge, in STEM Chaplaincy at AIU.
I joined STEM 2 years ago, very ambitious to soak in every stirring into personal development in a holistic scope. My best memory upon the commencement of each of the two years is of me looking at things I earnestly needed to learn and looking to God for a life turn-around.
The most intriguing thing about being in AIU is the communal sensitivity of its members. Such high value is attached to the togetherness that you would always have pending invitations to fellowship over meals. Breaking the ice with students, staff, and faculty members became rather easy as all it took was food, scriptures, and prayers.
The greatest stretch I have made in my convictions is in learning to love God's people selflessly, especially those who are not easy to give grace to. That has been daily tested in my willingness to expend myself regardless of the temptation to proudly cover-up from the 'undeserving'.
I have been heavily fused into learning radically ordinary hospitality in the last one year. Chaplaincy has grown my people skills, reading capacity, writing skills, persuasive communication, public speaking, effective personal planning, and critical thinking.
I thank God for granting the completeness of my joy through the students  I have shared my journey with and partners who supported me in prayer and generous gifts. I pray for them to be strengthened in the Lord and His goodness. I will always be indebted to FOCUS Kenya for catalyzing indelible marks of transformation in my life.
As transition glares, I have all hope to remain actively looped in students' ministry and intentional disciple-making. I hope my life will  be for the encouragement of believers and evangelism to the non- believers.