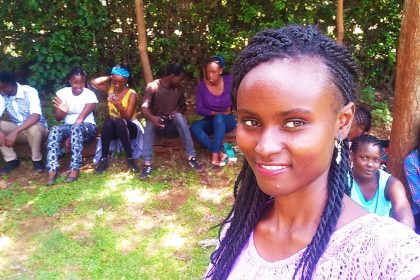 My name is Charity Wamuyu Maina. I have been serving as the STEM staff at the Technical University of Kenya and Kenyatta University School of Law Parklands KUSOL.
It is amazing how God chose to give me a whole year for his glory, to grow, self-discover, develop lifelong convictions but most importantly to learn how to hear and trust Him. He gave me the strength and confidence to face and conquer all the worries and fear I had while joining STEM and for that, I am truly grateful.
There are so many great moments I have had in ministry but the greatest of them all are those I spent doing trainings. Planning and implementing trainings gave me so much joy and satisfaction. Any time spent with students either having a one on one conversation, or in group meetings like Bible study, Executive committee meetings, and fellowships. were so precious and fulfilling. Something else I will never forget is the opportunity I got to be in charge of the Sunday school ministry during the EZRA conference. I had a lot of joy, working with the teachers, parents, children, and the facilitators to come up with content/materials that would be used to teach the kids. The Sunday school program gave me the opportunity to utilize my professional's skills and that was very good.
Through this program, I have grown in interpersonal skills, resource mobilization, personal organization, and leadership skills. Values such as teamwork, commitment to excellence, integrity, and stewardship have also been instilled. Thank you FOCUS Kenya for giving me this chance to grow.
To my partners, family, team leader, and friends, thanks very much for your support, it has been overwhelming and a blessing. May the Lord bless and do you good. May he shine his face upon you and be gracious to you.
STEM has indeed been a worthwhile journey! All glory to God.