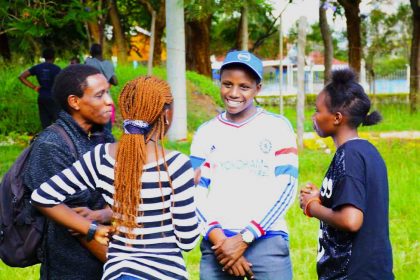 My name is Javan Kibet Kilele,  the STEM Staff in KU Christian Union- Main Campus.
Joining STEM was one of the best choices I have made in life. I was expecting to be involved in the lives of students, grow in my leadership and communication skills, and to connect with FOCUS partners and staff. Thankfully, most if not all, of my expectations have been fulfilled.
My most thrilling moments have been the times when I hosted students in my house for mentorship, counseling, or prayers as I shared a meal with them. I also enjoyed preparing and facilitating several trainings and discipleship programs.
Not only have I grown in my hermeneutical skills but also my public speaking, content development and presentation, research, resource mobilization and counselling skills.
I pray that God will continually sustain the work amongst students through this ministry and that the ministry partners will always have enough to support this ministry and that students' lives will be transformed continually.
The future is quite uncertain as I prepare to transit. However, God's call to continue serving Him in active ministry after STEM is clear and I trust that He will grant me that opportunity. I am however eager to be salt and light in the corporate world as well.
Grace  and Peace be multiplied to you.