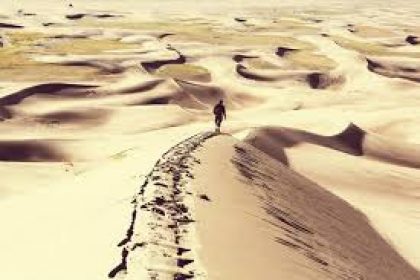 By Peter Oyugi
FOCUS Kenya Associate
In our discipleship journey as Christians, we face a constant battle in seeking to sustain our spiritual passion and to experience personal renewal. On one hand, is a longing to do the will of God and on the other is a lure to give in to the short-lived pleasure of sin which so often seeks to ensnare us.
Engaging in sinful actions can at times provide short-term pleasure, and that's why people easily succumb to it. We must however never lose sight of the consequences of sin because sin by its very nature is self-destructive. It is like poison which when consumed, even though laced with a sweetener, works from the inside to kill.   
We have to accept that pursuing holiness according to the will of God can be massively challenging. Charles Swindoll writes in The Mystery of God's Will: What Does He Want for Me?,
The longer I live, the more I believe that one of the most profound subjects in the Christian life is the will of God. The deeper we dig into it, the more we
realize how little we know. . . Doing the will of God is rarely easy and uncomplicated. Instead, it is often difficult and convoluted. It is mysterious. . . . In fact, more often than not, God's will is downright humanly illogical.
Meditation on the subject of personal renewal and pursuit of spiritual passion should turn us  to Paul's words in Titus 2:11-15 where he reminds him that Christ's death on the cross forms the foundation for the pursuit of personal holiness in Christian discipleship.
[Christ] who gave Himself for us to redeem us from all wickedness and to purify for Himself a people that are his very own, eager to do what is good (Tit 2:14).
This refers to the substitutionary sacrifice in which Christ offered Himself as a sacrifice for our sins to turn away God's wrath from us. His death on the cross was for our redemption, to purify for himself a people that belong to Him and who are eager to do good. Personal renewal flows from an eagerness to do good in obedience to Christ.
As Paul penned his epistle to Titus, he was concerned about the accurate and true proclamation of God's good news, kept pure from distortion and passed on intact to future generations. Three things stand out in this passage that can guide us as we seek to experience constant renewal in our love and service to God. These are penitence, passion, and perspective.
Let's, first of all, examine penitence in recognition of God's grace. In Tit 2:11 Paul writes that 'For the grace of God that brings salvation has appeared to all men.' The gospel, the good news about salvation in Jesus, is a gospel of grace. Grace has been defined as God's unmerited favour. Salvation is unmerited. You receive it even though you do not deserve it. It's a free gift.