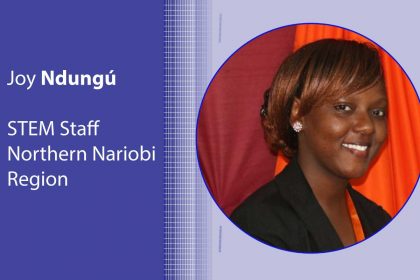 My name is Ndung'u Joy Wangui. I studied Political Science and Administration at Maasai Mara University. I served as a STEM Staff in Chuka and Embu University CUs. I am currently serving in the Associate's department, KU Ruiru and Kiriri Women.
My family comprises four members. My parents are pastors at Glory Covenant Church in Kikuyu, Gikambura and my Twin sister is in form four. My parents have influenced me in so many ways, they are strict disciplinarians. They have shaped my discipline and my spiritual life. They have also taught me the beauty of a united family.
One moment I count as a particular challenge was during the 2007 post-election violence. We lost everything but God is faithful we still had each other. God helped us rise again and it has been a blessing seeing my parent's unwavering trust in God in tough times. I have grown in a warm family in such a way that I always can't wait to go home. 
My parents are the people I look up to, they are my mentors and influencers. I admire how they can endure tough times together, and their commitment to God. I am also inspired by Pst Anthony Hinga, who introduced me to Student's ministry after high school. FOCUS as an organization has also played a significant role in who I am today, especially FOCUS Staff who walked closely with me since I was a student. I am so grateful to Edward, Priscilla, and Birgen for walking with me through some specific seasons in my life and never gave up on me.
Since childhood, I thought I was born again since my parents would pray for us and we also participated in church activities. But in high school, when I was in form one, I got lost in the crowd. When I went home for the holiday, I realized that I needed a personal walk with God. So in Form one mid-second term, I decided to give my life fully to God, and I joined CU. In form two I became a leader in the CU and my growth in salvation from then has been great.
When I joined University, the first year's orientation team did a good job for me. On the night of reporting, my 3 friends and I went to the CU office, asked a lot of questions concerning the CU and we were given a brochure about FOCUS. I did not read it but I took it to my dad who was keen enough to read it and he told me that I should one day consider the short term in ministry, that he would be happy to see me engaged in ministry.  
I did not give it much thought, but when I went back to school, I did a bit of digging about FOCUS from my CU vice-chair. The Vice-Chair shared it with Birgen, who started referring to me as a STEM staff from then. I kept dismissing him because I had a well-laid plan for my life. In my 4th year, Birgen, my CMF called and told me that there was nothing to talk about on joining STEM. He told me to open my email and fill in the documents. However, he also told me to consult my Dad first, which I did, and lucky enough he was okay.
My team leader consistently asked me to consider, but I told him that I needed to go back to my career. During the RSEC meeting, he told me that I had been considered. I was not shocked because I had seen the documents on my Regional Coordinator's laptop. I was ready for a second term!
I am so grateful to God for this chance, I couldn't be in any better place. I  looking forward to growing intimate with God and that my ministry and everything I do will stem from a place of communion to God.
My prayer is to my sister, to do well in her KCSE, I also pray for peace in my extended family. I pray that I will be of great impact on students and associates for the next 7 months and I pray for KU Ruiru CU.