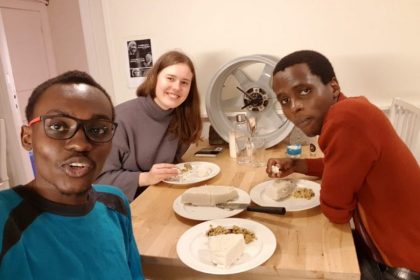 "August 7th, 2018, we left our motherland for a 10-month exchange program in Norway that would see us participate in student ministry work with the Norwegian International Fellowship of Evangelical Students movement called LAGET. The Norwegian word 'laget' means team. We got to Oslo; Norway's capital on the morning of 8th August 2018 and were treated to a very pleasant surprise of meeting a Kenyan working at the airport. He helped us know our way around the busy Gardermoen airport.
On arrival at Kristiansand, we were received by 3 trainees from HALD Internasjonale Senter. This would be our home for 6 weeks as we take a course in Cross-Cultural Communication and International Work. HALD is without a doubt a multi-cultural haven, with students and volunteers from across the world.
We continue to make the most out of the rather rare opportunities to share the gospel. We met a Kenyan man who lives near HALD. He has lived here for about 6 years. Besides getting to share the gospel with him, we were glad to benefit from his hospitality which included the much-missed Kenyan food- pilau. He has taken time off his busy schedule and dropped by HALD several times to check on us. Even though he has heard the gospel, he has not believed it yet and we hope to keep sharing it with him and praying for him. We also share the gospel in many small talks we have with students here at HALD. Caleb, for instance, had a rare opportunity of hiking with two students who shared their story with him.
We had a gospel conversation with another student who grew up in a Christian family but later decided to be agnostic. By God's grace, we were able to put meaning to many of the questions he asked, notably, the authenticity of the Bible. We agreed he would think about the perfect sacrifice of Christ on the cross and hopefully, start reading the Bible together. He is going on exchange to Uganda though, we hope this will be possible despite the distance. Pray for utterance for us as we seek to make known the mystery of the gospel and for him, that God would be pleased to draw him to Christ for salvation.
The context of Christianity is a bit different from that one at home. The stand of many Christians on some critical discipleship questions is interesting, at times worrying. We settled at being intentionally available in the common places and have conversations with our fellow students. Pray for us, that these opportunities will bear fruit.
On Friday 28th September, we moved to Bergen, a city on the southwestern coast of Norway where we are working with LAGET for 6 months. We are putting in efforts in introducing the work of LAGET to immigrant/international churches with the aim of having as many youths as possible participating in LAGET programs especially at school." Caleb Lemayain and Ancent Mutua are the immediate former STEM SM staff. We continue to pray for strength as Ancent and Caleb continue with their mission in Norway.
FOCUS Leadership development strategy is strengthened by several partnerships with like-minded organizations. The Norwegian Christian Student Ministry (NKSS) is one of those organization that has enriched FOCUS Kenya's work through an exchange program that has existed for 20 years. Through the partnership, At least 40 participants from Kenya have gone through the training in Norway with the same number of Norwegians in Kenya.
Log onto these links, subscribe and get to read about their stay in Norway.
www.calebreflections.wordpress.com