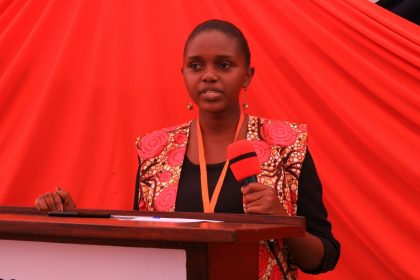 My name is Sharon Waithera Thiong'o. I served as STEM in the Associates' department, at Kiriri University and Utalii College Christian Unions.

Coming back for a second year in STEM was purely God's intention. My expectations may have been limited to my former experience but clearly, God had a purpose for it. I now know with all my heart that God holds His children in His hand and leads them on, day after day. He also empowers them to do all that He calls them to do, providing grace and making them fruitful in every good work. I am convinced that God is at work in His world, daily raising men and women to fulfill His grand agenda of reaching and drawing back all nations to Himself, and to those who yield, there is no limitation to what He can do in and through them.

I am a better leader, communicator, trainer, and mentor because of STEM. These skills will be so needful in my ministry engagements and work in the marketplace in the coming days. I am indebted to God for the privilege to reach students with His Word, through preaching, discipleship programs, mentorship, and training. I was also involved in the planning and coordination of fresh graduates' forums. These avenues stretched my creativity, excellence, and commitment. I rejoice in the Lord for the impact of those activities and programs on the lives of the students and fresh graduates and at the same time, rejoice for the growth and development of skills I have experienced in the process.

First of all, I am grateful for the faithful support I have received from the staff at FOCUS, and the constant challenge to grow, be and do better. Second, I appreciate my mentors and friends who kept me accountable and reminded me to be found faithful. Third, I thank the associates with who we closely worked together within our endeavor to reach students and be part of God's story of transformation. In addition, I cannot thank God enough for students who so endearingly opened up their arms and doors for me in Kiriri and Utalii Christian Unions. Serving God among them brought me so much joy and fulfillment. In a special way, I thank my family for their kind words of encouragement, prayers, and love as I took this new path. My partners generously supported me and made this ministry possible. May God reward them richly.

Please thank God for me the transformative one year and eight months in STEM. I will never be the same again. I trust God for an open door to work and serve Him after STEM. May God grant me swift obedience to His leading. I desire that all the investment done on me through STEM, the skills and experience, would be a springboard to faithfully representing Him and bringing glory to His Name.
Shalom!