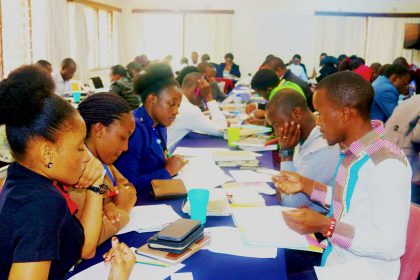 The Desire of Every Graduate 
After at least three years of hard work in a college or university, it is every graduate's dream to find a job. First to support self, then family. For most graduates, their families have invested heftily in their education. These families hope that, after graduation, they will get shouldering in some of the responsibilities. Most graduates, therefore, feel pressured to find a job and a steady income to support their families. When a graduate is not able to secure a job, they are not just frustrated by lack of it but also tormented by guilt. They feel a let-down to their families who gave up everything for them to secure an education and in turn save them from their limitations. 
COVID-19 pandemic has complicated the job search: many companies not hiring while others have closed their doors. This may spell doom to a graduate who is still looking for a job. However, the saying that every cloud has a silver lining, is no exception to this season. Some Companies are thriving and in need of more workers over this season. Companies dealing with logistics, communications, medical supplies, on-line retailing and delivery, financial technology, etc may be in need of an extra hand and would be hiring. Graduates, therefore, should therefore not lose hope but instead seek to maximize the available opportunities. How can one do that?
What to do
Continue to Diligently Apply for jobs
There are still opportunities out there that we can tap into. They say that looking for a job is a job in itself and we should treat it as one. When looking for a job, one can be tempted to send just one application in a month and keep waiting for the response for two months. I would say do at least one application a day and if possible even more. Our call is to do our best as we wait on God to lead us where He wills. Diligence in a Christian's life should be expressed in every way even while looking for a job.
Some of us may have done the best they can but still no response yet, don't give up. Continue in the hope that God knows your state and He works all things for good for those who are called according to his purpose.
Acquire new skills
There are numerous free online training on offer currently. Besides many of us have some extra time making it possible to enroll for some short courses. You can use those two assets and develop a new skill. It will enrich your CV. While at it, seek opportunities to volunteer as you seek to develop that new skill. Such might be what will put you on the cutting edge before your potential employer.  
We asked some of the Associates on what they would say to Fresh Graduates who job hunting and this is what they had to say:
Advice from FOCUS Associates 
Dr. Thamari: Life is not as we knew it. Keep applying but be patient with the world (employers are struggling too). Be kind to yourself. Learn a new skill as you wait for the world to heal. Don't give up, ever!
Janet Ogola: Look for a job but more importantly find something to do.
Erick Mokaya: I'd say though try and look for unconventional ways of making job applications like cold calling and using your networks. Above all don't give up and keep going. These are tough times.
Carol Kasaya: Do not keep to yourself during this time. Do not look for jobs secretly and man solo. Belong to vibrant groups where other Fresh Graduates are frequenting. An opportunity may rise. The Church Youth zoom meetings and WhatsApp groups have offered valuable fellowship and support for many young people. I can attest to this
Jacinta Kimani:  Keep the valid and well-made applications and credentials running into the employers' inboxes. Don't give up! Once invited for an online interview, please be official just as you would if it were a physical one. I have a testimony of two Fresh graduates who have gotten jobs during this time and they did a zoom interview! Amazing. What your hands find to do, do it with all your might. Faithfully and sacrificially. In the long run, the virtues you acquire during small engagements and volunteer work…gives us good mileage into the job market. Keep hope alive. In all your dealings entrust every process to God. He is aware of your needs and your life even now.
Put your trust in God 
In all this, do not be lacking in hope. God works all things in conformity to His will and for the good of those who are called according to His purpose. Having walked the job search journey, I can attest to the fact that it is not easy when you do not receive any response, leave alone regrets, to all the hundreds of applications sent. Not easy either, when you have prayed, and God seems quiet; when your family is in great need and you cannot help. Feelings of failure and disappointment clog your mind.
But I have also known God's provision; when I did not have a job, and He supplied to my needs. I preferred to work and meet my needs but learned that God provides for me, not work. When your friends ask about your whereabouts and you do not have an answer, God teaches you that your identity is in Him.
Hold on because no experience in God goes to waste. In the meantime, do your best and give it your most. He makes a way, where there is no way and in our weakness, he dares to manifest His strength.