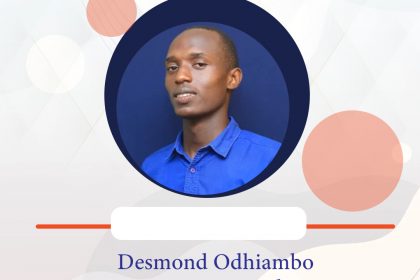 I am Owuoth Desmond Odhiambo, stationed at Moi University Annex Campus, Moi Uni CHS, KMTC Eldoret & Eld CBD Cus.
My journey in STEM has been one of a kind, marked by God's faithfulness. I was anxious and had a sense of insufficiency but my calling to the student ministry has been affirmed. Glory to God. I have a deep conviction to continue serving students while still working in the marketplace as a Technologist.
I'm sharpened and refined in my media & communication skills, personal planning, training, journaling, book reading and review, sermon preparation, and delivery. I have also grown in my interpersonal skills while associating with students, associates, and staff. I've learned to be objective when engaging issues that need decision making
My gratitude to my partners, colleagues, and associates for their contributions to my journey. The students and FOCUS were gracious to entrust me with the ministry work. To more years of Reaching Students and Changing Nations!
I am also thankful for the provision of God throughout my service. May God help me trust His wisdom and strength as I move to the corporate world.
God Bless You!