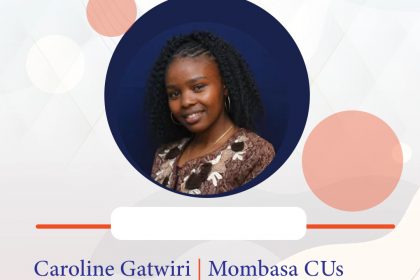 My name is Caroline Gatwiri. I have been serving in Pwani Region as the STEM Staff to Mombasa Town Cus.
The Lord has worked on me making me a better vessel for his glory each day. I am grateful to God for giving me a chance to be part of what He is doing among students.

STEM has helped me to understand that I am called to be the salt and light of this world and my life should be a reflection of who Jesus is. Students want to see my life modeling the Christ I proclaim and this has changed my perspective on how I should live each day. The journey has helped me build convictions on Christian family and marriage.

Personal growth has been my priority this season. I have learned to live a balanced Christian life by cultivating spiritual disciplines. Journaling and reflective writing have been nurtured as well. I have had opportunities to attend self-leadership training and apologetic classes to increase my capacity-building skills in discipleship and mentorship. Interpersonal and communication skills have grown through STEM engagements, preparing and sharing sermons, and facilitating discipleship classes. I have experienced growth in my mentorship and counseling skills also. The dynamics of different CUs have always been an opportunity to learn and grow each day. This has given me great joy in serving the Lord wholeheartedly and taking the challenges as an aspect of growth.

A big thank you to the blessing of FOCUS associates, partners, and friends who have played a great role in my STEM journey. They have always been there in my high and low moments in ministry prayed with me and offered support, and encouragement. I pray that the Lord will bless them and richly reward them for offering their time and resources for me. I am glad to have spent my time with Mombasa CU students. I have enjoyed the warm fellowships and retreats. May the Lord will keep and sustain them.

I am transitioning to my training in teaching where I will hopefully be a resource to the students. I desire that as apostle Paul states, I shall not run aimlessly nor fight like a boxer beating the air, but instead be keen to not be disqualified at the end.