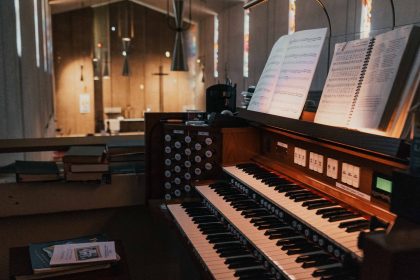 "Amazing grace, how sweet the sound, that saved a wretch like me…!" so goes the classic Christian hymn composed by John Newton in 1772. This timeless song resonates with the present 'wretched' state of every human being at the sight of God. What inspired John Newton to pen down this song, that has remained alive and sung in so many languages decades later?
The amazing story
John Newton was born in 1725 in London to a Puritan mother who died two weeks before his seventh birthday, and a stern sea-captain father who took him to sea at age 11. After many voyages and a reckless youth of drinking, Newton was forced to join the British navy. After attempting to desert, he received eight dozen lashes and was reduced to the rank of a common seaman.
While later serving on the Pegasus, an enslaved person ship, Newton did not get along with the crew who left him in West Africa with Amos Clowe, an enslaver. After a while, a sea captain, at the instruction of John's father, went out to look for him. His mission was a success and John was rescued from the African coast. However, during their voyage back to England, they were caught amidst a great storm.
The story is told that the storm swept some of his men overboard and left others on the verge of drowning. With both hands fastened onto the wheel of the boat, Newton cried out to God saying, "Lord, have mercy on us." After eleven hours of steering, the remaining crew found safety when the storm calmed. It is aboard this ship that Newton surpassed his earlier immorality and impiety, blaspheming to a degree that shocked even the older men and narrowly escaped death by drowning as he fell overboard during a party. All the while he reviewed his life: his former professions of religion, the extraordinary twists of past events, the warnings and deliverances he had met with, his licentious conversation, and his mockery of the Gospels.
At first, Newton was convinced that he had sinned too much to have any hope for God's forgiveness. Yet when the storm did not recede and he felt he would soon meet his God, he, at last, clung to Scriptures that taught God's grace towards sinners, and he breathed his first weak prayer in years. As he was later to recall it, this was "the hour he first believed." After this incident, Newton mustered enough faith and knelt between the palm trees and the sea, and rededicated his life to God.
After this episode, Newton never went back on his faith. He developed a consistent habit of prayer, and his watchword became humility: "What a poor creature I am in myself, incapable of standing a single hour without continual fresh supplies of strength and grace from the fountainhead."
When he returned to England, John was ordained as a church minister and helped William Wilberforce in the fight for the abolition of slave trade. If it were not for the grace of God, how else could a slave trader turn around and fight the same trade that his family lived on?
Who then is worthy of God's grace?
The Lexico defines grace as '(in Christian belief) the free and unmerited favor of God, as manifested in the salvation of sinners and the bestowal of blessings.' From John's story, we can agree that he was the least to deserve God's forgiveness and so are you and me. Reflectively look at yourself, and you will realize that you equally didn't deserve God's forgiveness for your sins. Sin is the only rift between man and God, and is the cause of the chaos in the world we live in today.
We are all born in sin. As soon as we come into this world, we begin our treacherous journey to destruction. It takes God's intervention to move from this pathway to the one that leads to life. That means, getting to know God, who then reveals to us our depravity sending us to a moment of remorseful confession of our sins and relinquishing our will and life to God completely. This is how God demonstrates his grace towards us, that regardless of our rebelliousness (sin) towards him or the number of sinful acts we have committed, He forgives us unconditionally. What manner of love that God has lavished upon us!
Experiencing the amazing grace of God
Our sinful state can be termed as "Disgrace" which the lexico defines as 'Loss of reputation or respect as the result of a dishonorable action' and in singular 'A person or thing regarded as shameful and unacceptable. In Zechariah 3, Joshua the priest's sin is described as 'filthy clothes' which the LORD removes and clothes him anew. This is the way God takes us our disgrace.
This amazing grace of God is demonstrated through Christ Jesus, who left his heavenly glory, lived a life like us here on earth, and took on our sins with him to the cross at Calvary. He paid a debt he did not owe; he took our place that we may be free. The only thing we can do in response to this love is to confess our sins and believe in our hearts that Jesus is the son of God. Besides this, is to live in obedience to His word as we eagerly await His second coming.
When you think of how hopeless we are without God; how much burden of sin we have to bear each passing day; and how much suffering this world throws at us – then you appreciate the gracious nature of our God. He not only takes away our sins but gives us the grace to endure our pilgrimage with joy. We are assured of the hope of eternity with Him.
May the grace of the Lord Jesus Christ, and the love of God, and the fellowship of the Holy Spirit be with you all.