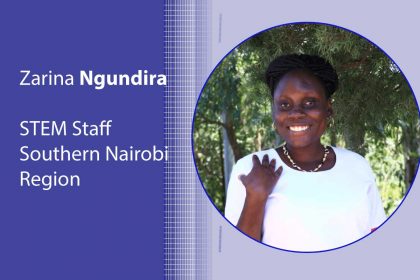 My name is Zarina Ngundira, a former student at Kisii University where I pursued a Bachelor's degree In Business Information and Management.
I joined campus without a personal relationship with Jesus Christ, but I was a committed Christian Union member. I got saved on 13th July 2017, in my first year during a Sunday service when I was convicted that good works could not earn me God's forgiveness and that I needed to confess and believe in Jesus to be redeemed. 
I was enrolled in the discipleship class and found people who walked with me. It was never easy since I  was very zealous but had very little patience to grow in my knowledge of God. As such I would occasionally evade discipleship efforts in the CU; the very process through which I needed to grow. By God's grace and through assisted discipleship, I grew deeper in God's word that searched my heart, corrected my thinking, called me to faithfulness, and encouraged me with practical examples and exhortations. In my second year, I began being involved in leadership and got the privilege to serve in the CU discipleship, constitution amendment, development, and accounts committees, and eventually as the CU Vice-Chair. These platforms provided me an opportunity for further growth in God's purpose and equipped me with leadership skills. My desire to serve God in student ministry was birthed and has continued to grow.
When I received the invitation to serve with FOCUS as a staff, I felt insufficient but all through God has been affirming and strengthening my desire to serve Him devoutly among students in institutions of higher learning. it is my prayer that God will accomplish His mission to the students. I also hope to develop a Christ-like character in all facets of my life through my STEM experience and at FOCUS.
I am trusting God for friends to journey with me in prayer and financial support as I serve the students. I will be raising my ministry operational costs with a monthly target of Kshs. 22,000. Looking forward to your kind consideration on this great calling, to see students in institutions of higher learning reached with the gospel of our Lord Jesus Christ and equipped for effective Christian living for the transformation of our society.