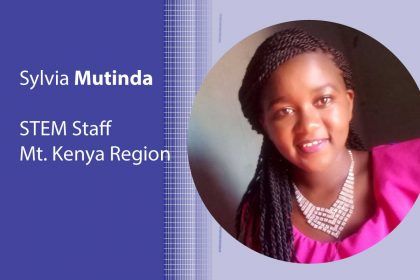 I am Sylvia Mutinda a finalist student at Kenyatta University pursuing a bachelor's degree in commerce. I got born again on 17th June 2012 during a youth Sunday in Church. Generally, I lived as an uninformed believer but things began to change when I joined the Christian Union in my first year. I was first introduced to Anza FYT (First year's transition and discipleship program) and later the nurture class (a discipleship forum for new believers). Through these programs, my eyes were opened to understand Christian disciplines and the fundamental truths of the gospel. I later joined High School ministry and other areas of service in the Christian union and I continued to grow over the years.
I first interacted with FOCUS Staff during a BEST-P Class (Bible Exposition Self Training program) and then more closely when I joined the leadership of the Christian Union. The FOCUS Staff trained us and closely walked with us as we served in different capacities. I valued the interactions especially as I was helped understand some of the questions I had about sermons preached in the CU, the Bible and the Christian life.
The call to consider Student Ministry through the FOCUS STEM Program came to me in January 2019. I was both shocked and excited at the same time. First, because I felt inadequate but more so because I saw it as an opportunity to serve other students as someone had served me. But most importantly that it was an invitation to serve God and participate in His mission among students in institutions of Higher Learning. As I join STEM, I desire to grow to be a disciplined and authentic Christian but also have a chance to interact and disciple students towards Christlikeness as well as network with partners and associates. I pray that the students I will interact with will be rooted and built up in Christ and that many may know Christ.
I am trusting God for ministry partners to journey with me in prayer and financial support as I serve the students. I will be raising my ministry operational costs amounting to a monthly target of Kshs. 22,000. I pray that God will provide for all that desire to see students in institutions of higher learning transformed by the Lord so that through your financial support and prayers, we will jointly serve God through STEM at such a time as this.