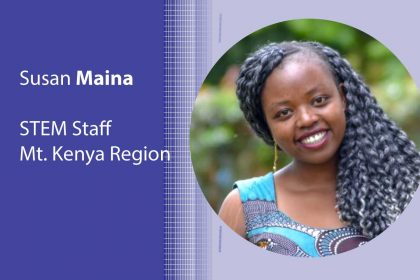 I am a former student of the Cooperative University of Kenya. Being brought up in a Christian, church-going family, I thought that that automatically made me a child of God. It was in Ezra Conference 2016, that I drew convictions that there was more to it than just sharing in the 'family's grace' and the intentionality with which I ought to take my Christianity. That is when I made a personal decision to faithfully follow Christ.
In my first month in campus, I hadn't been told about the Christian Union but I could always hear some sweet music in the evenings, in our then biggest hall, The Nordic Hall. And it just drew me to going and seeing what used to go on; I did and never stopped. It is in such meetings that I heard about Ezra conference, which became a major turning point in my life. After Ezra I started attending the discipleship programs organized by FOCUS, and the training played a great role in helping me develop a Bible reading plan. The love from the C.U leaders and our then STEM staff, Kevin Yoga, who always ensured to ask me What the Lord was Saying, was overwhelming and helpful. I felt at home.
Having served in various capacities in our CU, I developed a desire to be involved in ministry after campus. I just did not know how and where. The call to serve in FOCUS as a STEM staff was an answered prayer, and I received it with much peace. I thank God for my parents who were always so supportive.
 I join STEM with a strong belief that God will use me to impact the lives of many 'Susans' on campus. I trust that God will shape me as I serve, and my disciplines will be honed, especially in reading and leading.
My prayer is that the students I will be serving will find comfort in the assurance of having a friend in Christ. I also pray that they may flourish in love and their walk in salvation, guarding it with fear and trembling. It is my wish that at the end of my term, I will have made as many friends as possible through the partnerships I will develop and that God has and will bring my way and other ways. May God prove himself true to you who will be touched to walk with me, and may He richly bless you for giving me such an opportunity to serve and more so to grow, I'll forever be indebted to FOCUS Kenya. May this ministry be a blessing to many. Long live FOCUS!