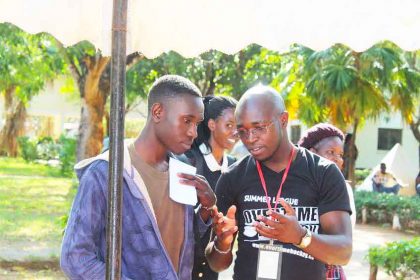 My name is Simon Anzigare, I have been serving as a STEM staff in Pwani University, KMTC Kilifi, North Coast Medical College and Shanzu Teachers' College.
As the call to join the STEM program knocked, I had two major expectations; to serve God wholeheartedly and walk and fellowship with him daily. Some experiences that shaped my encounters in the ministry were through informal engagements; retreats, night outs, and one on one visits carried the day for me. My quest for excellence and faithfulness in scripture was deepened through STEM. I was also exposed to people and resources that shaped my interpretation of the scriptures.
I have gained several skills in personal planning and organization, research skills and financial management skills, which have been the pivot of my engagements in the ministry. My conviction to study, observe and teach the scriptures with an aim of raising disciples in Kenya and across Africa was reaffirmed. The conviction to support like-minded organizations and individuals was also reawakened.
My prayer for the students is that they will constantly seek God and deepen their knowledge of Christ. To my partners, may God be gracious to you and your families for being very instrumental in my ministry. To FOCUS Kenya, your reward is great for the great vision on your hands, may the Lord expand the influence of FOCUS beyond the borders.
My next step will be to settle in my profession and display the love and glory of God through excellently and meticulously teaching the students in high school. Moreover, I will by the grace of God, settle in my local church and start equipping the young people.