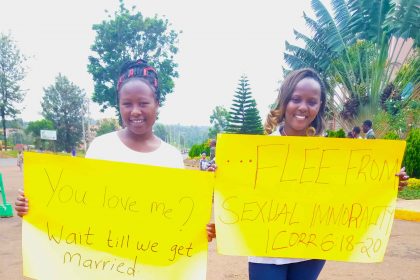 Ndung'u Joy Wangui is my name, the STEM Staff in Chuka and Embu CUs.
As I joined STEM, I longed to be more rooted in Christ. I wanted to develop personal disciplines, values, and convictions. I hoped to utilize the one year in impacting my generation while growing in my leadership skills. I thank God that these and more I have gained. Being alone in the STEM house gave me a perfect environment for personal devotion and reading. Hosting and being hosted by students, engaging in personalized conversations have resulted in a great transformation in their lives and mine. Spending time with my wonderful teammates, those moments on the pulpit where my heart was poured to students and the reality talks are moments that I will forever cherish.
Through STEM, my devotion to God has grown deeper and I have learned to let Him take charge of all that I am. Disciplines like giving, prayer and fasting, reading, and resting have been developed in me. My leadership skills have grown. I have learned that human beings are more important than projects. I'm a better administrator now since I have learned how to manage and organize all that is at hand. God used STEM to work on me.
My prayer to my students is that may God sustain them and may they keep holding on to the faith. To my partners who have been a blessing to me, may God increase you and may you never lack. To FOCUS in general may God reward the impact you are making in the lives of students.
I thank God for another opportunity to serve in FOCUS for a second term and I know there is so much He has in store.