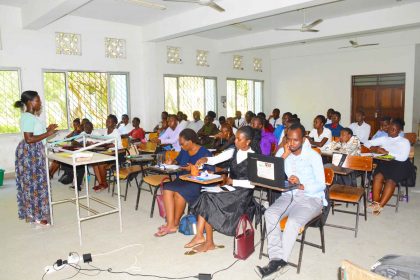 My name is Jackline Kawira, a STEM staff at Mombasa CUs.
While joining the STEM program, I had both fears and expectations. Some of the expectations were that  I will do so many sermons and lead many students to Christ, raise funds for my ministry work, develop new friends, and know the purpose of God for my life.
In the course of STEM, I have had diverse experiences. Some of my best moments in student ministry were the late-night exec meetings, preparing for trainings, pouring our lives out to each other, bonding sessions, those moments of divine provision, the opportunities to preach and do trainings, having walks on the beach and learning how to swim, cooking together, bible study, digital ministry and the moments of praying for the students as staff. Glory to God.
God has used the STEM program to instill in me values like courage,  selflessness, authenticity, diligence, service, consistency, perseverance, and faithfulness. Today I am convinced that life is not all about pursuing great things as the word describes. Rather it is all about living out God's purpose upon our lives within his will.
My STEM journey has been punctuated with a gain of skills such as training, content development and presentation, journaling, writing, public speaking, guidance and counseling, lobbying,  computer literacy, interpersonal skills, conflict resolution, planning, budgeting, basic accounting, and resource mobilization skills. Just to mention a few.
This journey would not have been a success without the presence of the students, supporters, friends, family, and FOCUS in general. My prayer for students is that God will mark out a generation for himself in you to serve him diligently in this generation and generations to come. To my supporters, thank you for your selfless support and sacrifice. To my family, thank you for taking a step of faith with me beyond doubts and fears and also believing in what God is doing in my life. May God bless you. My heartfelt gratitude goes to FOCUS in general for investing your all in me. I am fully charged to transform lives. My prayer is that God will bless and expand FOCUS and the ministry of FOCUS. Blessings.