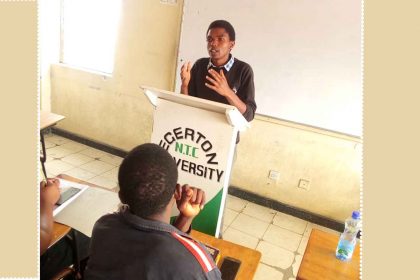 I am Isaac Miriti, the STEM staff in the Christian Unions at Nakuru town.
When the call to join FOCUS came, I looked forward to growing in scripture engagement and improving my reading culture to be a relevant minister on campus. A deep desire for experience in peer mentorship and counseling was also in me. I envisioned having the heart to heart talks with students and opening our lives to each other with the intention of finding solutions to the challenges that the students face.
I drew joy from the moments I shared with students in the discipleship programs, retreats, and visits I made to students at their places of residents. Leaders in the CUs became good friends. Some made it their habit to come and unwind at my place or invite me to play cards as they debrief from the many demands on their shoulders.
In my service, I have gained public speaking skills, counseling skills, and listening capacity. My conceptualization of ideas and issues has also developed due to critical thinking that was necessitated by the engagements I have had. I'm now an equipped leader with a transformed life.
Ministry among students has helped me appreciate that God is at work even in the little things we do to work out his redemption for mankind This has made me always give my best while serving even if it ministering to an individual when I think of the implications it can have by God being behind it.
I pray that the hearts of students shall be moved to love God and develop deep lifelong convictions. I am grateful to all who supported me through prayer and finances, may you continue being part of this great commission among students. To the FOCUS family, I pray that the Lord shall continuously bring insight and renew the strength of the staff to remain relevant through changing times.