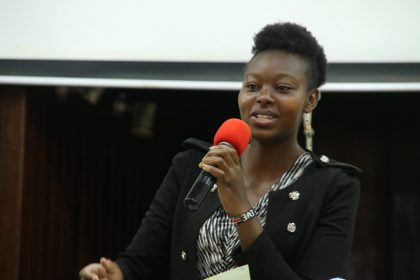 My name is Evalyne Wangari. I studied at Moi University in 2014-2019, where I pursued a Degree in Education (English Lit with Guidance and counseling). I was formerly in Western Region- Kisii for STEM and by God's grace currently in Southern Nairobi- Africa International University (AIU STEM Chaplaincy.
I made a genuine decision to follow Christ in June 2015. I was so broken and was listening to a counselor on Hope FM on a program I frequented since I liked it. As they spoke, I felt deeply within me the conviction to turn around my life. It is here that I confessed Christ and asked God to guide me in the commitment. When I went back to campus in September, I went through a discipleship class and was baptized and it is in this season that I got into the Christian Union leadership. In the CU, I was able to interact closely with some leaders and FOCUS Staff. I attended conferences and regional activities that sparked a desire for Student Ministry. This also exposed me to mentorship.
I was approached to consider joining STEM the first time by my Campus Ministry Facilitator- Mr. Everton Kataka.  Before my second year of STEM, God provided friends among my colleagues and from other circles to help me prepare for continuance. The timing of the call was at a rather difficult time in my life but I am thankful that the blessing of the new term has been as that which 'makes one rich and adds no sorrow.'
I am looking forward to an amazing time of service and great encounters with students and colleagues. STEM has brought about growth, I still want to continue to experience more. I really desire to have an unhurried life of service to the Lord. Also, pray that I get the most out of this program in the remaining time and be an instrument of God's mission to the AIU family and the wider body of Christ.
I have cherished the support of my close friends who have been dear ministry partners as well. Praise the Lord for the burden of ministry in their hearts. I would like to invite you to journey with me in finances, prayer and any other unique ways as the Lord leads you. You can send support through MPESA pay bill number 412412 for the account: STEM-Evalyne.