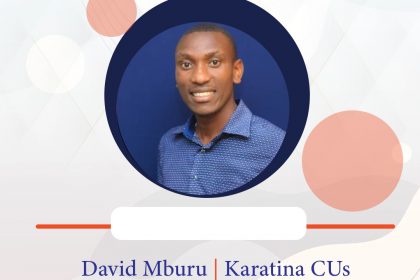 I am David Mburu Wariara, a graduate of Machakos University. I have been serving with FOCUS-KENYA as a STEM staff at Karatina University Main campus, Karatina School of Business Mukurweini TTI, and Mathira TVC CUs for eight months.

The STEM period has been a time of personal discovery and growth. I have studied and understood so much about myself. I have become a better book reader, researcher, and writer. I have created a lot of networks through my partners and FOCUS associates. I got opportunities to grow in my interpersonal, communication, training, and decision-making skills just to mention a few. These skills will carry me a long way in my life, work and ministry.

I have learned to be faithful to the holy scriptures, and have grown in my interpretation and exposition of scriptures. Integrity was tested every time things were entrusted to my care. The Lord has helped me to be a steward seeking to honor Him in the seen and the unseen. I have seen dedicated men and women serving the Lord wholeheartedly in this ministry and got very inspired by them. They have helped me redefine success, not as accumulation but as a fruit of contentment at every stage of life.

Special appreciation to my team leader who has been very instrumental in walking with me. I have found a family among the FOCUS staff and associates in MT Kenya. My heartfelt appreciation to the CU leaders and members in the CUs I have been serving with for their kindness, love, and willingness to serve closely with me as they witness my growth. Many thanks also to all my partners who have been praying with me and supporting me in the ministry. May the Lord bless them greatly.

As I transit, I desire that the Lord will avail more willing people to work in His vineyard since the harvest is plenty. May the Lord also provide more resources to FOCUS so that many students in the institutions of higher learning may be reached. Shalom.