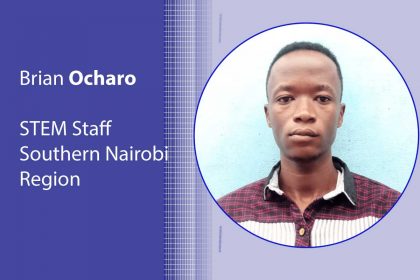 My name is Brian Monyacha Ocharo. I studied BSc. Fisheries and Oceanography at the Technical University of Mombasa. I surrendered to the Lordship of Jesus Christ back in the year 2013 (was in form 2), when our school in coordination with the Masinde Muliro University of Science and Technology Christian Union held a weekend challenge. Being convicted of God's forgiveness drew me to confess Jesus as my Lord and savior.
At the University, I joined the Christian Union 2 days after joining campus when a CU official visited our hostels and invited us to join the fellowship. A year later, by the grace of God, I was nominated to lead one of the discipleship programs in the CU, BEST-P (Bible Expository Self Training Program), and later as the Bible Study Coordinator and Discipleship Coordinator. I thank God that with the support and guidance of our then STEM Staff the fellowship continued to experience spiritual growth, especially in Scripture Engagement. I also grew greatly in my leadership skills and in my walk with God as I provided oversight to the various CU discipleship programs.
The invitation to join STEM for me is an opportunity to serve God more beyond campus. My aspiration and desire are to see a generation of transformed young men and women who are Christ-like and are deeply rooted in God's word and in Christian virtues. I pray that they will stand firm against the storms of life and the deception in the world. It's my prayer and desire to see Christ glorified in our institutions of higher learning for the transformation of our society.
I am trusting God for ministry partners to journey with me in prayer and financial support as I serve the students. I will be raising my ministry operational costs amounting to a monthly target of Kshs. 22,000. You can send your gift through MPESA Paybill No. 421421, A/C Name: STEM Brian Ocharo. I pray that Our Lord and Savior Jesus Christ will continue with the unending mission of blessing all who partner with me in this journey and protecting their families as they continue supporting ministry to the students. To the FOCUS family I pray for the unending sufficient grace as we continue reaching students and changing nations for Christ.