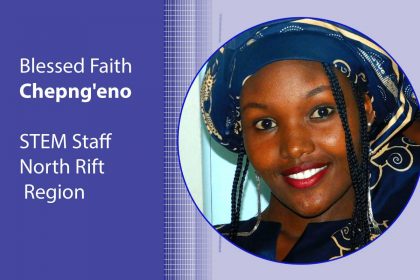 I am Blessed Chepng'eno Faith. I am saved by grace and humbly convinced that the Lord is my salvation. I have cleared my undergraduate studies in International Studies and Diplomacy (International Relations and Diplomacy option) at the University of Nairobi.
Christ saved me in 2014 during my High School days. Watching a film on Christ's crucifixion together with other student leaders on a school trip opened my heart was to the reality of the scriptural truth of the sacrificial death of a sinless man for the sinful of mankind. I was convicted of my sin and embraced the love of God and His forgiveness to me through the sacrifice of Jesus on the cross. A sermon on Isaiah 53 followed and that made my conviction clearer. I later made known my coming to faith to my patron when we went back to school, and she walked with me henceforth.
I joined the University Christian Union in 2017 in my second semester in school. My roommates introduced me to a weekly bible study.  The interactions made my heart feel at home and I found a family and place of fellowship. It's such a joy to recount what the Lord used the CU and FOCUS to do in my life. In His faithfulness, God remained in our midst. Through these and further interactions with godly brothers and sisters, I was shaped through scripture study, grew in prayer, and was committed myself to faithfully defend the gospel. My decisions became continually informed by the scriptures and Christ remained the anchor of my life. I got the privilege to serve in the Christian Union in the Evangelism department and towards the end of my term of service the invitation to serve God for an extended period through the FOCUS STEM Program came by and I consented as the Lord guided me.
As I join the STEM Program, I aspire to serve God and His people in my institutions of placement as I gain excellence in different life aspects and multiple skills. I trust that my time with the students will be of eternal value to the students spiritually, as the Lord guides. Apart from preaching and discipling the students in the word of God, I hope to also support them emotionally, academically, socially and in any specific area that the Lord leads. I am also hopeful that during this period, God will continually clarify how He would want me to serve Him in the long run. 
Using Bill Wright's words, winning the university today is conquering the world tomorrow. No one can underestimate the strategic nature of campus ministry, and this being FOCUS' main focus, I trust that the sovereign Lord will use me in my frailty, unto faithful service during the next one year. May it please Him to providentially give me brothers and sisters who will commit to holding my hand financially and otherwise. May He be pleased, during my time of service save those who have not yet known Him, to strengthen those He has truly saved and to help the students rejoice in the Him. May the Lord give me a fruitful Christ-exalting time.